Jonathan Allen
Jonathan Allen is a senior national politics reporter for NBC News, based in Washington.
Katherine Doyle
Katherine Doyle is a White House reporter for NBC News.

Lisa Rubin
Lisa Rubin is a former litigator and an MSNBC legal analyst.

Ken Dilanian
Ken Dilanian is the justice and intelligence correspondent for NBC News, based in Washington.

Jake Traylor
Jake Traylor is a 2024 NBC News campaign embed.
WEST PALM BEACH, Fla. — Donald Trump likes to put his name on everything — except his taxpayer-funded post-presidential office here on North Flagler Drive.
Trump's website doesn't list the address, which is about a 10-minute drive from his Mar-a-Lago club. The nameplate on the hallway wall is blank. There is no seal, official or unofficial, on the frosted-glass door. And the name Trump — a brand the former president estimates to be worth billions of dollars — is nowhere to be found.
It's so hush-hush that his spokesman claimed no knowledge of its existence.
"I've never heard of a North Flagler office," the spokesman, Steven Cheung, said when NBC News asked about the suite on Wednesday.
But it's here, across the hall from an IRS suite with a door marked "criminal investigation" and one floor below an outpost for Trump's Secret Service detail. Three sources confirmed the location of the office.
Under the Former Presidents Act, the federal General Services Administration provides funding for post-presidential offices, including money for staffing. There are reasons — including security — that some ex-presidents choose to shine less light on their offices than Bill Clinton did when he moved into space on West 125th Street in Harlem more than two decades ago.
What stands out about this suite is that it has played a little-noticed role in Trump's affairs as he takes the unusual step of seeking a return to the White House following his 2020 defeat.
It has apparently housed classified material and, according to a person familiar with Trump's operation, been searched by a private firm at the direction of Trump's lawyers. Long after that inspection, banker's boxes were still piled against the wall and in the middle of the main room, according to two sources familiar with the office.
"Boxes everywhere," one of the sources said. "The state of that office is generally cluttered. If there weren't boxes and bins, I'd think that something happened."
There is no indication that Trump has used the office himself. It is not clear what is currently in the boxes, and it is not clear whether he knows what is in them.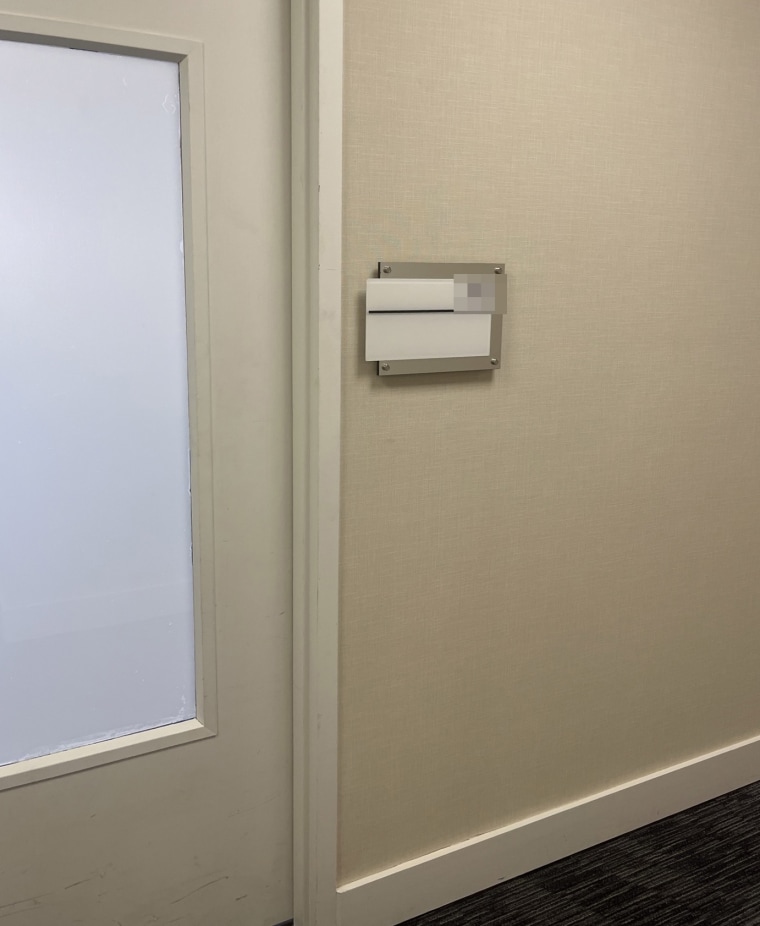 Former President Donald Trump's post-presidential office in West Palm Beach, Fla. The suite number was obscured by NBC News.
NBC News
In June, Trump pleaded not guilty in federal court in Miami to charges that he unlawfully held and hid classified documents after he left the White House. A spokesperson for Special Counsel Jack Smith declined to comment on what prosecutors know about the office and its contents.
Outside of the classified-documents case, Trump's unique triple-hatted role as former president, candidate and defendant raises questions about whether and how his aides keep their work separated.
Several Trump aides on the payroll of his Save America political action committee, his 2024 presidential campaign, or both, have worked at the post-presidential office since it opened two years ago, according to campaign finance records and people familiar with the office. Cheung did not respond to a follow-up email seeking details about the office and its operations, including whether aides on Trump's political payroll who have worked there are also paid by the government or a private non-campaign entity.
It is possible for one person to split time between a campaign and government work, according to election finance experts. For example, most executive branch employees — including political appointees — can participate in certain partisan political activities outside of work, so long as they don't use government resources. And it could be that Trump's aides are careful not to mix political work with official business.
But there is a strict prohibition on performing political duties on government time — or in a government-occupied building or room. It is not clear what steps Trump is taking to ensure a wall of separation between official and campaign business for aides who are on his political payroll.
"The general rule is, even where dual-hatting is allowed, and even when it's being done without pay on either or both jobs, you definitely cannot conduct [political] work in your government office," said a former Federal Election Commission lawyer who asked to remain anonymous to discuss the Trump situation. "That is pretty close to an iron-clad rule."
Most former presidents don't have to contemplate mounting a legal defense and a presidential campaign as their aides reply to correspondence from fans and dignitaries.
"Donald Trump is the first ex-president of our time who has declared for re-election. At the same time, his political fundraising committees are contributing money to his personal legal defense," said Michael Beschloss, a presidential historian.
"Since Nixon's rocky and much-criticized first months out of office, American ex-presidents have abided by fairly strict traditions and practices," Beschloss said. "Such practices would not include non-government officials using American taxpayer-funded office space and services to conduct an ex-president's campaign or to work on his private legal defense, if either of those things happened."
Political Payroll
When a surprised-to-be-packing Trump left the White House in January 2020, his aides scrambled to collect the items he wanted to take with him and ship them to multiple locations, including Mar-a-Lago and a temporary transition office in the Washington suburbs.
Toward the end of the six-month transition process, Trump aides worked with GSA to relocate the office in the Washington suburbs to West Palm Beach. Kathy Geisler, the GSA point person for the transition, noted in an email to Trump aides that the agency would pay for only one location — meaning that the "correspondence office" had to be either at a West Palm Beach suite or at Mar-a-Lago, not both.
"If the Former President's Office determines that the Correspondence Office in West Palm Beach will be the single office that GSA provides and furnishes, furniture and other items from the Mar-a-lago location will need to be moved [from] the existing location to the new location," Geisler wrote to Trump's team in June 2021.
The office on North Flagler Drive appears to be the final location for that "correspondence office," also known as the office of the former president. Trump, who continues to falsely claim that he won the 2020 election, does not refer to himself as a "former" president and his staff generally avoid that construction, as well.
Several of his aides, all of whom worked in operations or correspondence roles at the White House, have been seen at the North Flagler Drive office since it opened in late 2021, according to two of the people familiar with the office. The set includes Beau Harrison, Molly Michael and Desiree Thompson, these people said.
Michael, who no longer works for Trump, was on the payroll of his Save America political action committee from July 2021 until September 2022, the month after the FBI raided Mar-a-Lago in search of classified documents. An attorney for Michael did not respond to questions about the work she did for Trump at the North Flagler Drive office.
Harrison was at times paid by Save America — for advance work, a year-end bonus, basic pay and reimbursement for travel and office expenses — according to the PAC's federal finance disclosures. The last payment was on Aug. 15, 2022, a week after the raid on Mar-a-Lago. Harrison did not respond to a text message from NBC.
Cheung, the Trump spokesman, confirmed Wednesday that Thompson still works for Trump. She remains on Save America's payroll, earning a rate of about $120,000 per year, according to the PAC's most recent filing. Reached briefly by phone Friday, Thompson politely said she had to "refer" questions about the office. She did not call back.
Classified material
When the FBI raided Mar-a-Lago on Aug. 8, 2022, a box that contained Trump White House schedules, including some with classified markings, was sitting at a West Palm Beach office uninspected, The Guardian reported earlier this year.
According to the newspaper, a junior aide who went by the nickname ROTUS — receptionist of the United States — had moved the box from a Mar-a-Lago workspace to a government-leased West Palm Beach office when she was relocated to the office in 2022. She was later moved back to Mar-a-Lago, along with the schedules, and she had also scanned them onto a laptop, the paper reported, citing two sources familiar with the matter.
ROTUS is a moniker used by Chamberlain Harris, who held the informal title at the tail end of the Trump administration. One of the people familiar with the office confirmed that she worked there for a time. Harris did not reply to a text message or a LinkedIn message seeking comment on her work at the North Flagler Drive office and asking her whether she moved the box of schedules to Mar-a-Lago.
Harris has been on the Save America payroll since July 2021 and has been on Trump's re-election payroll since December 2022, according to campaign finance records. Together, Trump-affiliated political committees paid her $163,000, including travel reimbursements, from July 2021 through June 30, 2023, which is the last date for which campaign finance records are available.
In late 2022, federal investigators pressed Trump's lawyers to turn over any remaining classified material in the former president's possession. That prompted his legal team to hire a private firm to conduct searches at several locations, including the North Flagler Drive office, according to a person familiar with the probes.
The person said there were no additional classified materials discovered by the private team. There is no indication that the FBI ever searched the premises for classified documents or other materials that belong to the government under the Presidential Records Act.
The FBI and GSA did not respond to requests for comment.