29 min ago
World Bank offers 'full support' to Morocco
From CNN's Mostafa Salem in Abu Dhabi
The World Bank has said it is offering its "full support" to Morocco after the earthquake.
"Our hearts go out to the people of Morocco, who are suffering the effects of devastating earthquakes that have caused a tragic loss of life, injuries, and damages in the areas south of Marrakech," the bank said in a statement on Saturday.
"We have relayed our profoundest condolences to the kingdom at the highest levels and offered our full support to the country in the wake of this catastrophe," it continued.
"Our sole focus at this stage is on the Moroccan people and the authorities who are dealing with this tragedy."
34 min ago
Nervous Moroccans spend second night on streets as rescuers warn toll is expected to rise
From CNN's Ivana Kottasová, Eyad Kourdi, Mostafa Salem and Nectar Gan
Terrified Moroccans spent a second night in the streets after a powerful earthquake killed more than 2,000 people, as rescuers race against time to reach trapped victims in remote mountain villages near the epicenter hit hardest by the devastating tremor.
The 6.8-magnitude quake, which struck late on Friday, was Morocco's deadliest in six decades. It was also the strongest to hit the region around the ancient city of Marrakech in a century, according to the US Geological Survey.
So far 2,012 people have been listed killed and 1,404 others critically injured, according to Moroccan authorities, but the toll is expected to rise further as rescuers dig through the rubble of collapsed houses in remote areas of the High Atlas mountains.
In historic Marrakech, the largest city near the center of the quake and a major tourist draw, many families spent Saturday night staying out in the open, as authorities warned residents to pay close attention to follow-up tremors.
People stayed away from the damaged buildings in the city's tightly-packed medieval-era center as well as the surrounding red earth walls, where parts have crumbled.
In the Oliveraie Park in central Marrakech, hundreds of people, including children and the elderly, slept on blankets and makeshift mattresses. Families huddled together, trying to get some rest after the shock and panic from the night before.
Some brought bags of clothes and food, preparing for a possible longer stay away from their homes.
Flags around the city are flying at half-mast to mark three days of national mourning announced by the monarchy.
In Marrakech's airport, dozens of tourists slept on the floor in the main terminal, waiting to catch a flight out. Flights in and out of the tourism hub have been operating mostly as normal.
The first 72 hours after a natural disaster are considered the "golden period" for finding survivors, as the condition of people trapped and injured can deteriorate quickly afterward.
READ MORE: Nervous Moroccans spend a second night in streets
48 min ago
As Morocco wakes up, many have spent the night on the streets. Here's what you need to know
From CNN staff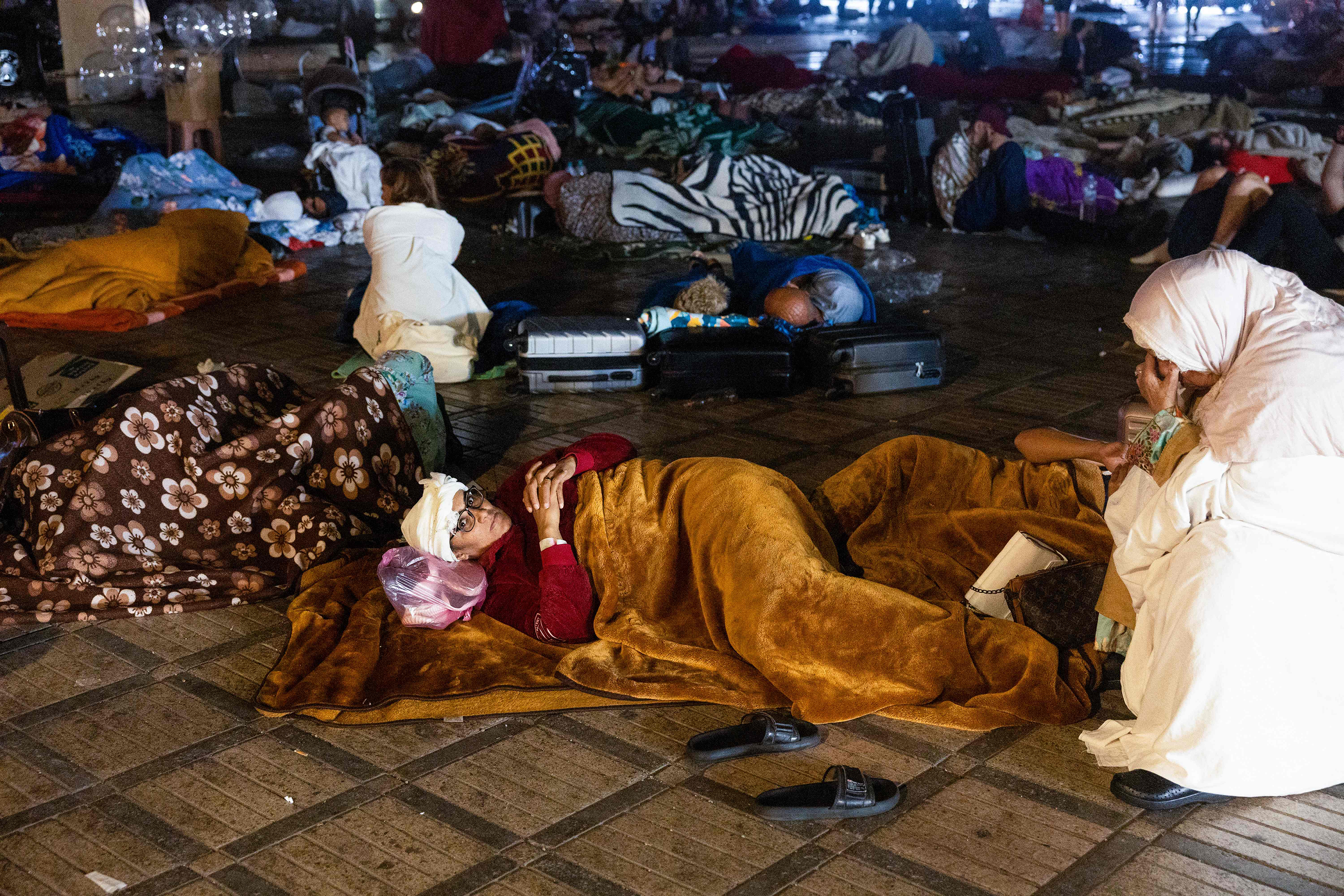 Residents stay outside at a square on September 9. Fadel Senna/AFP/Getty Images
As morning begins in Morocco, many of those who've had their homes destroyed by the deadly 6.8-magnitude earthquake have spent the past night on the streets.
These are the latest developments:
Death toll climbs: At least 2,000 people have died and another 2,000 are hurt due to the quake, according to state broadcaster Al Aoula, which cited the interior ministry. Morocco will observe three days of mourning following the disaster, the Royal Palace said Saturday.
Eyewitnesses near the High Atlas mountains say there is "destruction everywhere." It was the strongest quake to hit within 500 kilometers (about 310 miles) of the area in more than a century, according to the US Geological Survey.
Uncertainty looms: CNN's Benjamin Brown, who was in Marrakech at the time of the earthquake, observed many of the city's parks, plazas and parking lots transformed into impromptu campsites amid destruction and fear of aftershocks.
Injured people from closer to the epicenter were brought to city hospitals, with medics performing open-air triage with many patients.
History destroyed: Marrakech's Medina and city walls, adored by tourists, were hit particularly heavily, their century-old structures unable to withstand the violent shake.
The Tinmal Mosque in the High Atlas mountains, a prime example of Almohad architecture, was also severely damaged.
Moroccan response: Morocco's King Mohammed VI issued instructions to set up a commission for relief services, which will provide care, housing and foods for those affected.
Global aid and reactions: Leaders from around the world — including US President Joe Biden, Chinese leader Xi Jinping, France's Emanuel Macron, Israel's Benjamin Netanyahu and Turkish President Recep Tayyip Erdogan — have extended their condolences to Morocco. Indian Prime Minister Narendra Modi opened the G20 summit in New Delhi on Saturday with "heartfelt condolences" to everyone affected by the quake.
France activated a fund that allows all local governments throughout the country, regardless of their size, to make financial contributions for emergency humanitarian operations abroad.
Israel's emergency services have geared up to mobilize in Morocco, the United Arab Emirates will establish an "air bridge" to deliver supplies, and Algeria reopened its airspace for humanitarian aid and medical flights despite having previously cut off diplomatic relations with Morocco.
Turkey says it is ready to send 265 personnel and 1,000 tents to Morocco to support aid efforts following the deadly earthquake, according to AFAD, Turkey's Emergency Management Authority.
47 min ago
More than 2,000 dead in Morocco earthquake
From CNN's Pierre Meilhan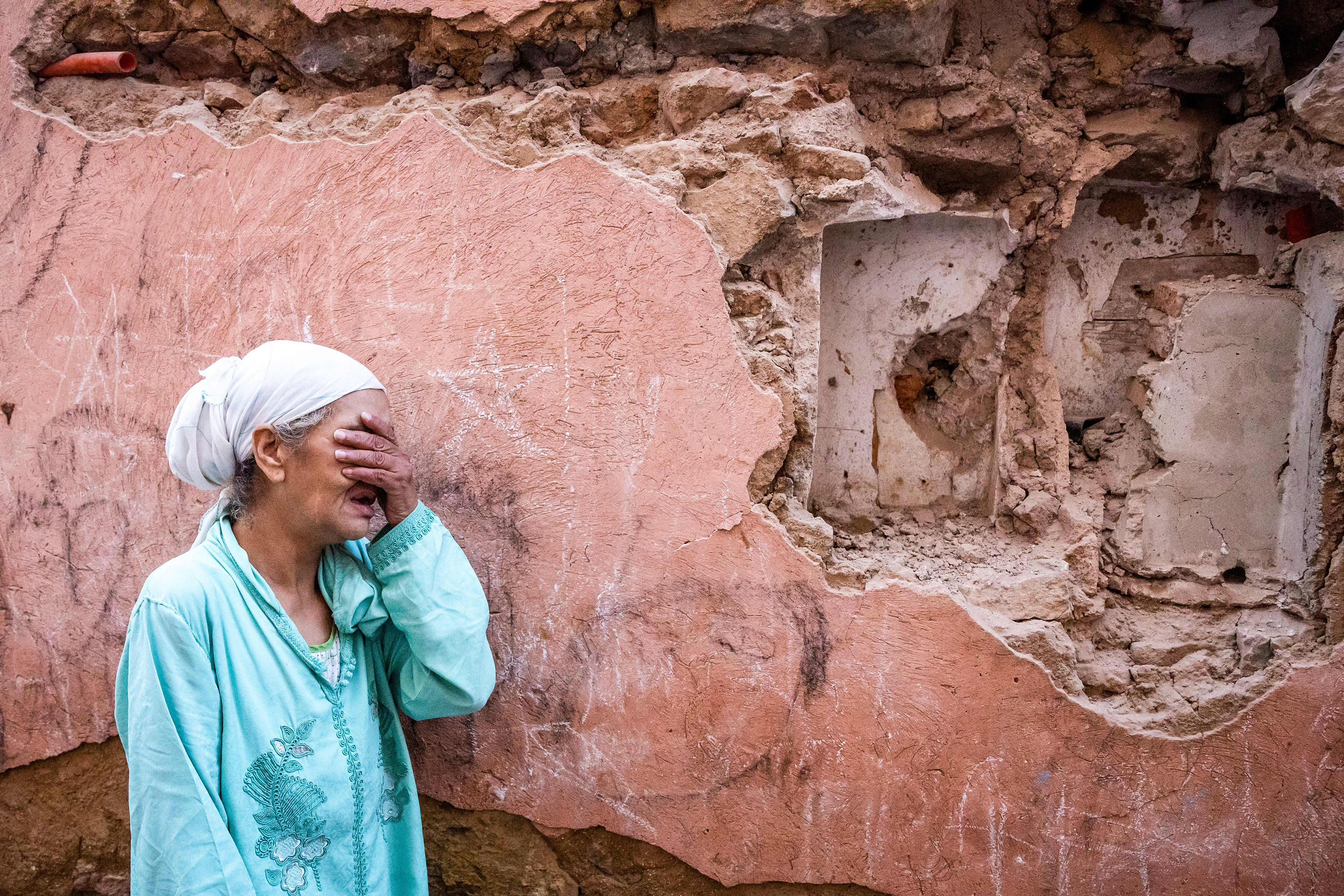 A woman reacts standing in front of her earthquake-damaged house. Fadel Senna/AFP/Getty Images
At least 2,012 people died and another 2,059 were injured in the earthquake that struck Morocco Friday night, according to the latest figures released by the country's interior ministry, state-run broadcaster 2M reports.
At least 1,404 of those hurt by the quake are in critical condition, the ministry said.
1 hr 17 min ago
Moroccan national team donates blood to aid victims of deadly earthquake
From CNN's Patrick Snell
Members of the Moroccan national soccer team donated blood on Saturday in support for the victims of the deadly earthquake that hit the nation.
The Atlas Lions were scheduled to play Liberia in an Africa Cup of Nations qualifying match on Saturday, but it was postponed due to the powerful quake.
Morocco's magical run in the 2022 FIFA World Cup broke records and inspired praise across the world.
Elsewhere in the soccer world: La Liga's first and second division will hold a minute's moment of silence in solidarity with the victims and families of the earthquake in Morocco, Spain's top-flight soccer league announced Saturday.
Meanwhile, two of La Liga's biggest clubs — Real Madrid and Barcelona — released statements in support of the earthquake victims.
"Real Madrid C.F., its president and Board of Directors express their deepest concern and solidarity with the victims of the earthquake in Morocco in recent hours," the club said in a statement.
In a post on X, formerly Twitter, Barcelona wrote, "We send our strength and solidarity to the victims of the earthquake that affected Morocco."
1 hr 17 min ago
This map shows the area impacted by the devastating Morocco earthquake
The epicenter of the deadly Moroccan earthquake Friday was in the High Atlas mountains, about 72 kilometers (45 miles) southwest of Marrakech, a bustling hub for tourism and culture that's home to about 840,000 people.
The worst of its effects were felt in the more rural mountain communities, however, where access can be difficult even on the best days.
The map below shows the areas impacted by the quake:
1 hr 17 min ago
French national dies in Morocco quake, foreign ministry tells public broadcaster
From CNN's Pierre Meilhan
At least one French man died and eight other French nationals were injured in the earthquake that struck Morocco Friday night, the French foreign ministry said Saturday, according to public broadcaster France Televisions.
The man who died was in the Moroccan coastal city of Agadir, west of the epicenter of the 6.8-magnitude quake, according to the ministry.
1 min ago
Morocco declares 3 days of mourning following deadly earthquake, according to Royal Palace
From CNN's Pierre Meilhan
Mrocco will observe three days of mourning following the deadly earthquake that struck the country, the Royal Palace said Saturday.
Flags will be flown at half-staff on all public buildings, according to a statement issued by the palace.
Over 1,000 people have been killed in the earthquake, state TV reported, citing the country's interior ministry.
2 min ago
Here's what world leaders have said about the disaster in Morroco
From CNN staff
Te international response to the 6.8-magnitude earthquake that struck Morocco on Friday night has been huge.
More than 2,000 people have been confirmed dead as rescue operations continue. In the midst of it, world leaders have offered their condolences and commiserations.
In a statement Saturday, US President Joe Biden said he is "deeply saddened" by the quake and that his administration is in contact with Moroccan officials: "We are working expeditiously to ensure American citizens in Morocco are safe, and stand ready to provide any necessary assistance for the Moroccan people." US Secretary of State Antony Blinken also expressed his "deep sadness at the loss of life and destruction" and "heartfelt condolences" to those affected, echoing Biden's promise of assistance.
French President Emmanuel Macron said Saturday on X, previously known as Twitter: "We are all devastated by the terrible earthquake in Morocco. France is ready to help with the rescue efforts."
Chinese leader Xi Jinping expressed his condolences to Moroccan King Mohammed VI, Chinese state media CCTV announced Saturday, calling the earthquake "shocking."
"On behalf of the Chinese government and people, I expressed my deepest condolences to the victims, their family and those injured," Xi said in the statement. "I believe that, under the leadership of your majesty the King, the Moroccan government and people can definitely quickly recover from this disaster and rebuild their homes," he said.
Ukraine's Volodymyr Zelensky sent his "deepest condolences to HM King Mohammed VI and all Moroccans for the lives lost in the horrible earthquake. I wish those injured a fast recovery."
President Recep Tayyip Erdogan of Turkey, which experienced its own horrific earthquake earlier this year — as more than 50,000 people were killed in Turkey and Syria — conveyed his "best wishes to all Moroccan people affected by the earthquake disaster in friendly and brotherly Morocco."
Indian Prime Minister Narendra Modi opened the G20 summit on Saturday with "heartfelt condolences" to everyone affected by the quake. He later said on his X account that he was "extremely pained by the loss of lives."
Japan's Prime Minister Fumio Kishida sent a message of sympathy to Moroccan Prime Minister Aziz Akhannouch, according to a Japanese Ministry of Foreign Affairs statement. "I am deeply saddened to hear that so many precious lives were lost and so many people were affected by the earthquake. I would like to express my condolences to the victims and offer my sincere sympathies to the bereaved families," Kishida said, also indicating his country's willingness to offer substantial aid.
European Commission President Ursula von der Leyen, German Chancellor Olaf Scholz, Spanish Prime Minister Pedro Sanchez and Belgian Prime Minister Alexander De Croo have also said that they and their countries are "with the victims" of the tragedy.
Pope Francis on Saturday expressed his "profound solidarity" with Moroccans hit by the deadly earthquake in a telegram sent to Morocco by the Vatican's Secretary of State Pietro Parolin. "The Holy Father prays to the most high to support the people of Morocco in this ordeal and offers his encouragement to the civil authorities and rescue services," it added.
Ready to help: Some countries say they are in touch with Morocco on how to assist the North African nation following the disaster, with Israel and the UAE already preparing to provide assistance on the ground. The United Nations has also said it will provide help.
The French ambassador to Morocco told CNN affiliate BFMTV Saturday that France is in talks with Moroccan authorities to figure out "ways to accompany Morocco in this grave crisis."
Magen David Adom, Israel's emergency medical team, is mobilizing and gearing up to leave for Morocco "within the next few hours" according to a statement released Saturday.
"This earthquake demands a wide-reaching response, necessitating collaboration among numerous organizations," the director general of Magen David Adom, Eli Bin, said in the statement.
Meanwhile, the UAE's President Sheikh Mohamed bin Zayed Al Nahyan "has directed the establishment of an air bridge to deliver critical relief supplies and other forms of support to those affected by the earthquake that struck various areas of the Kingdom of Morocco."