The Los Angeles Angels and one of this generation's top players, Mike Trout, will not play in the postseason for a ninth straight season.
The Angels became buyers at the trade deadline to get Trout and Shohei Ohtani into the postseason rather than trading Ohtani, a pending free agent.
At the trade deadline, the Angels were 4½ games back in the AL West, three games back in the wild-card hunt and were fully going for a postseason berth. But they lost seven straight after the deadline, and, since Aug. 1, they are 14-36, the worst record in baseball in that span.
Trout broke his hand in early July but returned in late August to hopefully turn things around. But it was for just one game. He admitted Monday he returned too soon.
CLICK HERE FOR MORE SPORTS COVERAGE ON FOXNEWS.COM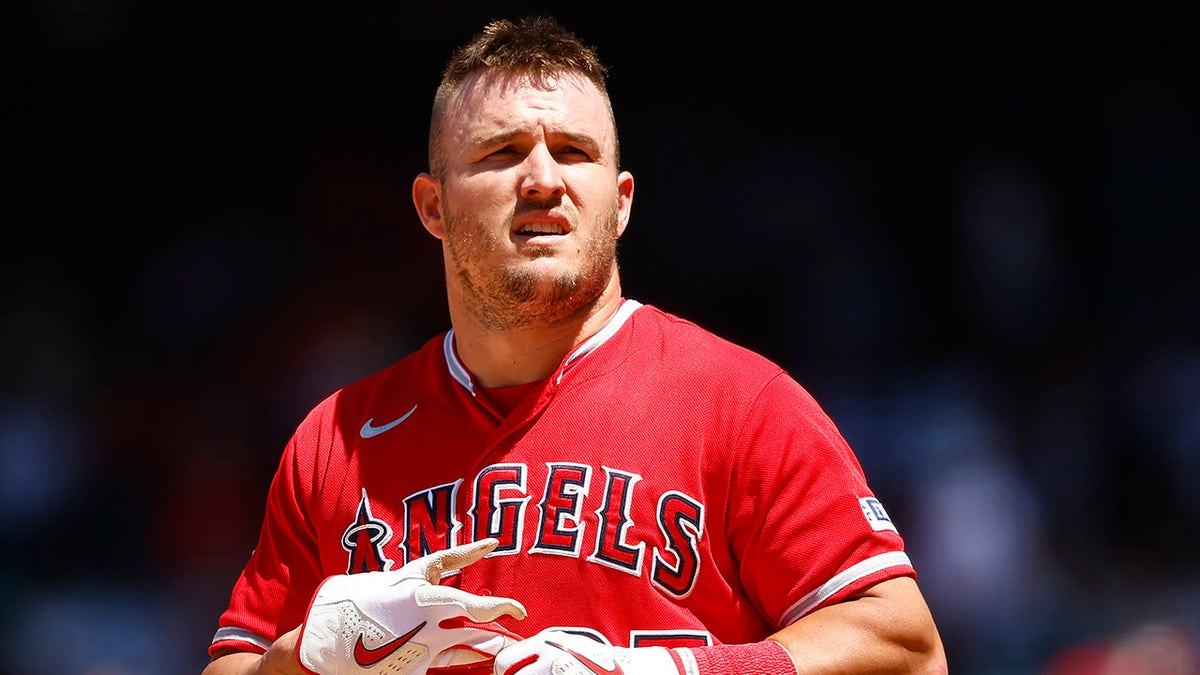 Mike Trout of the Los Angeles Angels at Angel Stadium of Anaheim June 29, 2023, in Anaheim, Calif. (Ronald Martinez/Getty Images)
The combination of injuries and losing has taken a toll on Trout, who was emotional speaking to reporters Monday.
"It's frustrating. [My hand is] better now, obviously. But I wanted to get back. It's tough. It's been hard on me," Trout said, fighting back tears.
"I just want to be out there. And injuries. It sucks. All the hard work and stuff, and freak stuff happens. Trying to stay positive.
"I love playing this game. I enjoy it, and it kills me not being out there. I just try to think of the broader picture. I got a lot left in my career. I can't just sit around here and mope around. Gotta have that positive mindset. Try to do that with everything in life."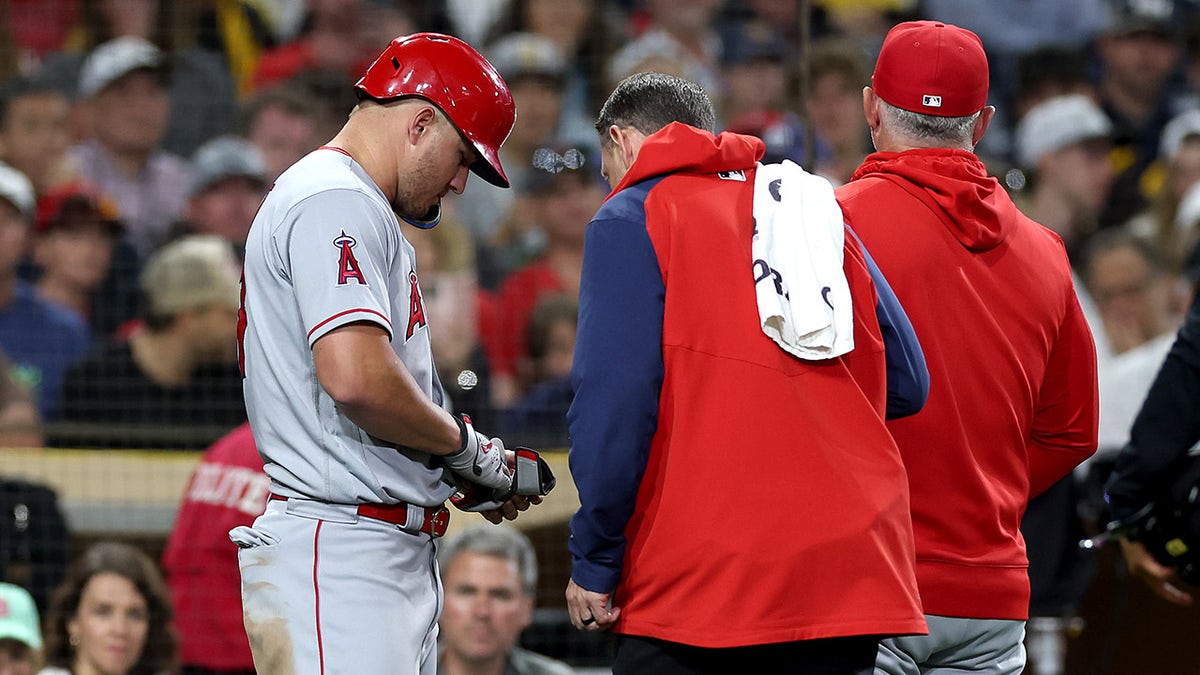 Manager Phil Nevin talks with Mike Trout of the Los Angeles Angels, left, during his at-bat in the eighth inning of a game against the San Diego Padres at PETCO Park July 3, 2023, in San Diego. (Sean M. Haffey/Getty Images)
It's hard to imagine the Angels will keep Ohtani, and with another losing season, there have been rumors Trout, a three-time MVP, could be traded this offseason.
CC SABATHIA EXPLAINS WHY YANKEES FANS SHOULD STILL TRUST BRIAN CASHMAN AFTER 2023 STRUGGLES
"I go through this every year. These are private conversations I have with [owner] Arte [Moreno] and [president] John [Carpino]. I'm doing the same thing I've done the last 13 years," Trout said when asked if he wanted to stay in Los Angeles.
"Going into the offseason, clearing my mind, getting ready for spring and wearing an Angels uniform in spring.
"I've got seven years left on the contract. There's a lot of speculation out there," he added. "And, like I said, I come in every year. I sit back two to three weeks, enjoy the family, clear my mind and then have conversations with the front office every single offseason. Nothing's changed."
Not including his 40-game stint as a late-season call-up in 2011, Trout posted career-lows in average (.263), on-base percentage (.367) and slugging percentage (.490) in his 82 games. It also was the third time in the last four seasons he has failed to play in at least 85 games, including the COVID-shortened 2020 season. He hasn't played in at least 120 since 2019.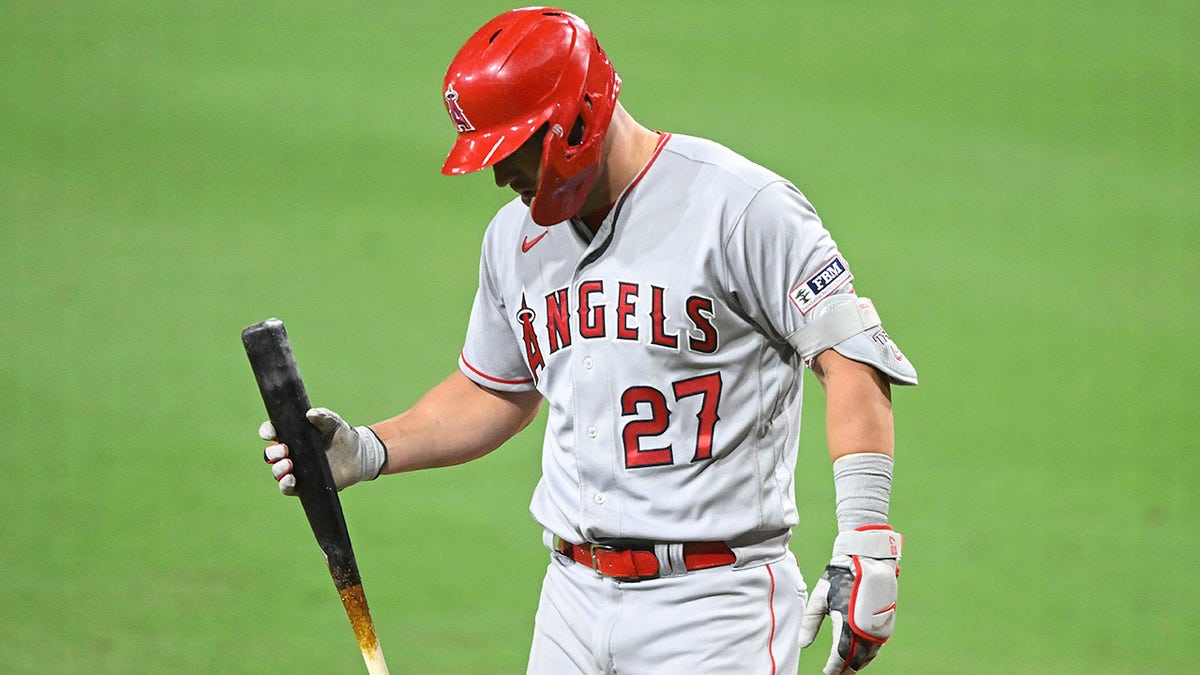 The Los Angeles Angels' Mike Trout leaves a game during the eighth inning against the San Diego Padres July 3, 2023, in San Diego. (AP Photo/Denis Poroy)
CLICK HERE TO GET THE FOX NEWS APP
He's owed $248 million from the MLB record 12-year, $426.5 million deal he signed in 2019, which runs out in 2030.