We may receive commissions from some links to products on this page. Promotions are subject to availability and retailer terms.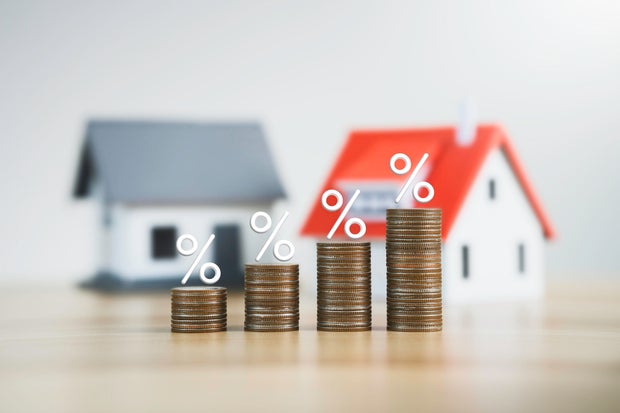 An adjustable-rate mortgage could be an affordable alternative in today's high rate environment.
Getty Images/iStockphoto
Inflation is persistent, interest rates to combat it are high (and may rise yet again) and housing inventory is low in large parts of the country. This combination of factors has caused quite a headache both for prospective homebuyers and current owners looking to refinance. Buyers, in particular, are stuck either waiting for rates to drop, prices to fall or both. When that happens, however, is unclear. It's possible that the Federal Reserve will raise interest rates yet again when they meet next week in what would be their eleventh such hike since March 2022.
In this environment, buyers may feel like they don't have any low-cost alternatives. There is, however, one mortgage loan type that may be worth pursuing in today's climate: the adjustable-rate mortgage. An adjustable-rate mortgage is exactly what it's name implies. It's a mortgage that starts at one interest rate but that can - and will - be adjusted over time. Unlike fixed-rate mortgages that stay the same over the full mortgage term, adjustable-rate mortgages change periodically. But are they worth it for you? Or are you better off staying on the sidelines in today's mortgage market? That's what we will explore below.
Start by checking your mortgage options here now to see what rates and terms you qualify for.
Is an adjustable-rate mortgage worth it?
In a traditional mortgage environment with low rates, an adjustable-rate mortgage is generally considered too risky. But with mortgage rates currently hovering around 7% (for those with excellent credit) it may be worth researching further. Here are three reasons why an adjustable-rate mortgage may be worth it for you now:
Lower interest rates
In today's inflationary environment, every dollar counts - and every quarter of a percentage point helps. While the introductory rate offered with an adjustable-rate mortgage may not stay low forever, it will remain low for the first portion of the loan term. And that may be all you need. According to Bankrate data, the national average adjustable rate mortgage as of June 9 is 6.06%. That's more than a full point below the national average for 30-year fixed-rate mortgages which were 7.08% on the same date.
A full point lower will save you a lot of money each month - and even more in the first few years of the mortgage. While 6.06% isn't as good as the rates being offered a few years ago, it's still low historically - and much better than what can be secured currently with a fixed-rate mortgage.
Explore your mortgage options here now to find a rate that works for you.
You can refinance later
While adjustable-rate mortgages come with some unpredictability they don't have to remain that way forever. Once the rate environment changes - and it inevitably will - you can refinance into a more secure, fixed-rate mortgage. The specific requirements to refinance from an adjustable-rate mortgage to a fixed one will depend on the lender in question but it's not impossible to do. In fact, the refinancing process will work similarly as a conventional mortgage refinance will, albeit into a hopefully lower, fixed rate.
Interest rates are capped
The word "adjustable" can conjure thoughts of a rate that only goes upward. But rates on adjustable mortgages are capped, meaning that they can't go above a certain percentage, regardless of what's going on in the larger economy and rate environment. A periodic rate cap, for example, will help reduce the amount the rate can change year-over-year while a lifetime rate cap will limit how much the rate can go up over the full mortgage term. A payment cap, meantime, will keep the monthly payment toward the mortgage in check so that payments don't become too arduous.
Explore mortgage rates here now to see if an adjustable rate is worth it for you.
The bottom line
Buyer looking for homes in today's market know how frustrating and discouraging the process can be. And while interest rates are exponentially higher than they had been during the height of the pandemic, they don't need to be a deal-breaker, either. Adjustable-rate mortgages are a viable alternative worth investigating. These mortgage types generally start with lower rates than their fixed mortgage rate counterparts. And they can be refinanced in the future should the larger rate environment become more favorable. Finally, rates on adjustable mortgages are capped so even though they start low they'll never go above an agreed-upon threshold, either. Check your mortgage options here now to learn more.
Thanks for reading CBS NEWS.
Create your free account or log in
for more features.