1 min ago
Stocks rise ahead of a second day of bank hearings
From CNN Business' David Goldman
Stocks: US stock futures were higher ahead of a second day of bank hearings on the Hill. Dow futures were up 240 points, or 0.7%. S&P 500 futures were up 0.9%. Nasdaq Composite futures were 0.9% higher. European markets were higher, and Asian markets were sharply higher after Alibaba reorganized.
Fear & Greed Index: 38 = Fear
Oil & gas: US oil prices were up 0.7% to $74 a barrel. Average US gas prices rose to $3.46 a gallon.
8 min ago
Credit Suisse is still helping ultra-wealthy Americans evade taxes, Senate panel says
From CNN's Matt Egan
Credit Suisse is complicit in ongoing tax evasion by ultra-wealthy Americans, including a potentially criminal conspiracy involving the failure to disclose nearly $100 million in secret offshore accounts held by a single family, a Senate investigation released Wednesday finds.
The two-year investigation by Senate Finance Committee Chairman Ron Wyden alleges major violations of the 2014 plea agreement Credit Suisse reached with the US Justice Department after it enabled thousands of wealthy Americans to avoid taxes.
"At the center of this investigation are greedy Swiss bankers and catnapping government regulators," Wyden said in a statement, "and the result appears to be a massive, ongoing conspiracy to help ultra-wealthy US citizens to evade taxes and rip off their fellow Americans."
Read more
13 min ago
UBS brings back Sergio Ermotti as CEO to oversee Credit Suisse rescue
From CNN's Michelle Toh and Hanna Ziady
UBS is bringing back its former chief executive, Sergio Ermotti, to manage the hugely complex and risky task of completing the bank's emergency takeover of rival Credit Suisse.
The surprise appointment, announced Wednesday, highlights the scale of the challenge facing the Swiss lender as it executes a first-of-its-kind merger of two global banks with combined assets of nearly $1.7 trillion.
The Swiss government engineered the rescue 10 days ago as Credit Suisse teetered on the brink of collapse, a failure that would have rocked a global financial system already reeling from the second-biggest American banking collapse in history.
Ermotti was UBS CEO between 2011 and 2020 and is credited with successfully overhauling the bank following its bailout during the 2008 financial crisis. He is seen as a safe pair of hands, capable of turning around embattled Credit Suisse.
His second stint in the top job, which begins April 5, means the end of current CEO Ralph Hamers' tenure after just two and a half years in the role, during which time the bank has delivered successive record results.
Hamers "has agreed to step down to serve the interests of the new combination, the Swiss financial sector and the country," UBS said in a statement. Hamers will remain at the lender for a transition period.
As a first order of business, Ermotti will need to cut thousands of jobs and downsize Credit Suisse's investment bank, while aligning it with a more conservative risk culture.
The merger is high-stakes for Switzerland's economy. The combined bank's assets are worth twice as much as the country's annual output, while local deposits in the new entity equal 45% of GDP — an enormous amount even for a nation with healthy public finances and low levels of debt.
Ermotti told reporters he felt a "call of duty" to accept the role and that during his previous stint as CEO he had believed that an acquisition of this kind was the "right next move for UBS."
"I always felt that the next chapter I wanted to write back then was a chapter of doing a transaction like this one."
Ermotti is currently chairman of Swiss Re and intends to step down after the insurer's annual general meeting next month.
34 min ago
'I am not a banker... I'm a dirt farmer'
In Tuesday's Senate hearing, Democratic Sen. Jon Tester of Montana demanded the Federal Reserve get to the bottom of what went wrong leading up to the implosion of Silicon Valley Bank.
"It better be fixed," Tester told Michael Barr, the vice chair for supervision at the Federal Reserve. "If it's the regulator's fault, it better be fixed. If it's the regulation's fault, it better be fixed," Tester said. "If it's something else, I hope there's a report to this committee saying, 'You know what guys, this can happen again unless this happens.'"
Tester argued the problems at the bank are obvious.
"I am not a banker. I ain't even close to being a banker. I'm a dirt farmer," Tester said, adding that you don't need to be an accountant to "figure out what the hell was going on here."
Barr responded that ultimately it is the bank management's responsibility to fix problems that regulators flagged – but they failed to do that.
34 min ago
Republican Senators: Regulators were too focused on climate change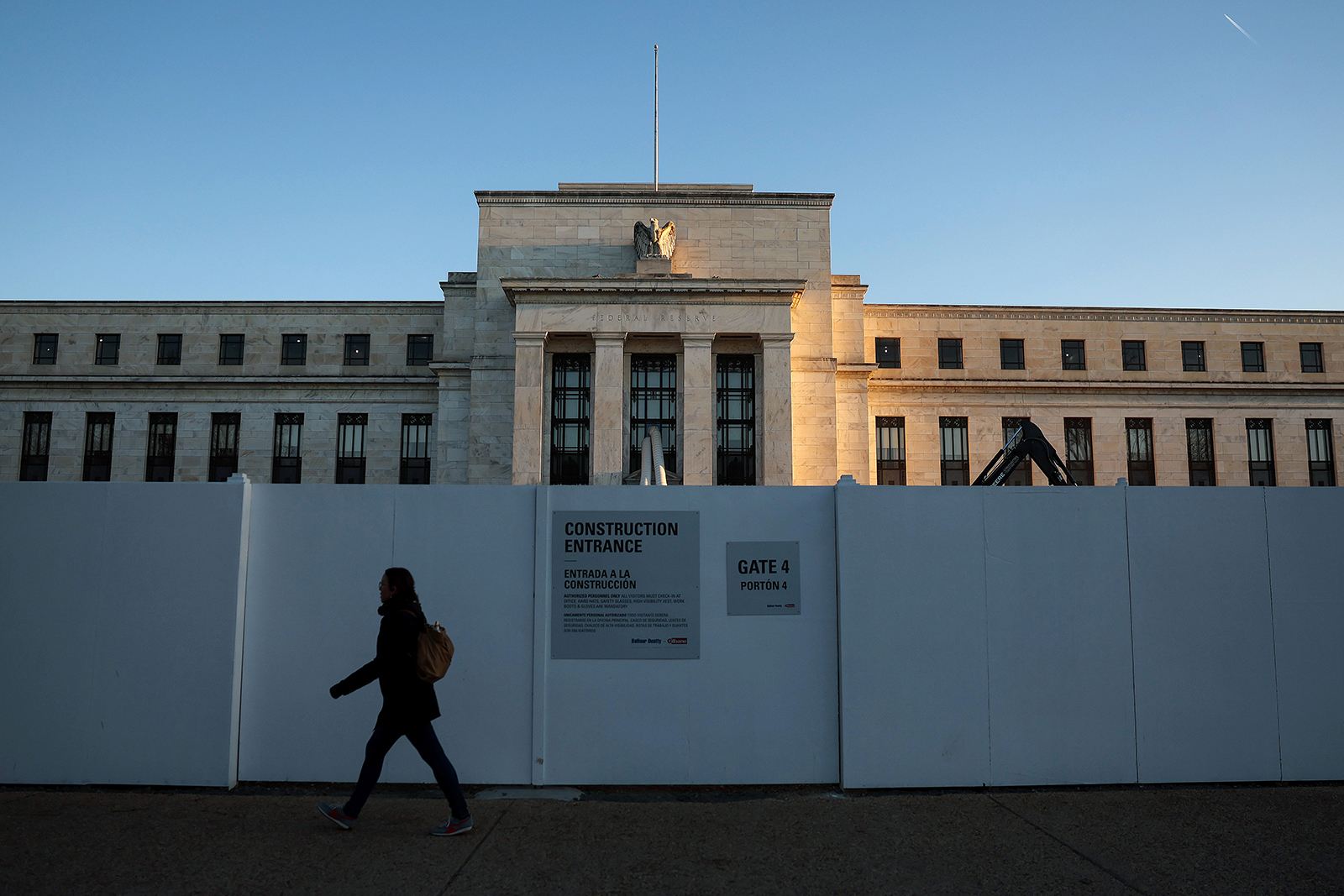 A pedestrian walks past the Federal Reserve Headquarters on March 21 in Washington, DC. (Kevin Dietsch/Getty Images)
Republican Senators suggested on Tuesday that the banking turmoil came as a result of the Federal Reserve's focus on climate change.
The Fed announced in September that the six largest banks in the United States would participate in a voluntary pilot program to test what effects disastrous climate change scenarios could have on their bottom lines.
During Tuesday's hearing, some Republican lawmakers appeared to blame the Fed's focus on that program and on addressing climate change in general for a lack of regulatory banking oversight.
In his opening statement, Republican Senator Tim Scott, the ranking member of the banking committee, called the Fed's focus on climate change a waste of time.
"The Fed should focus on its mission and not the climate arena. This is a waste of time, attention and manpower," he said. "All things that could have gone into bank supervision."
Republican Senator Steve Daines of Montana said President Joe Biden's stimulus plan contributed to the downfall of Silicon Valley Bank by failing "to prioritize clear and present risks of the inflationary environment, rising interest rates and what they would do to bond values," and "instead opting to focus on climate change."
Daines also accused the Federal Reserve Bank of San Francisco of prioritizing addressing climate change over the risks presented by higher interest rates.
"Senator, I've been focused on risk throughout the system, both short-term and long-term risks," replied Michael Barr, the Fed's vice chair for supervision. "Interest rate risk is a bread and butter issue in banking. It's what our supervisors do all the time."
34 min ago
Takeaways from the Senate hearing
A person reads a notice posted on the front doors of a Silicon Valley Bank branch in Pasadena, CA, on March 13. (Damian Dovargane/AP)
Here are some of the key issues that arose from the Tuesday's hearing:
Silicon Valley Bank customers
New details that emerged underscored the enormity of the bank run at SVB as it became the second-largest bank failure in American history.
Panicked customers attempted to withdraw a staggering $100 billion from Silicon Valley Bank on the day the tech lender was shut down by regulators, said Michael Barr, vice chair for supervision at the Federal Reserve.
Officials have previously detailed that customers successfully pulled $42 billion from Silicon Valley Bank on March 9, the day before it was shut.
Mismanagement led to SVB's failure
Barr also detailed how SVB leadership failed to effectively manage interest rates and the risk of running out of cash, calling the bank's failure is a "textbook case of mismanagement."
"The bank waited too long to address its problems and, ironically, the overdue actions it finally took to strengthen its balance sheet sparked the uninsured depositor run that led to the bank's failure," said Barr, adding that there was "inadequate" risk management and internal controls.
Regulators say banks are safe
"Our banking system is sound and resilient, with strong capital and liquidity," he said Tuesday. "We are committed to ensuring that all deposits are safe. We will continue to closely monitor conditions in the banking system and are prepared to use all of our tools for any size institution, as needed, to keep the system safe and sound."
More regulation is needed
"Executives at SVB and Signature [Bank] took wild risks and must be held accountable for exploding their banks," said Democratic Senator Elizabeth Warren of Massachusetts. "But let's be clear, these collapses also represent a massive failure in supervision over our nation's banks."
All three federal regulators called to testify agreed with Warren that the government needs to strengthen the rules for banks to help prevent future bank collapses.
Bank executives could land in trouble
Both Gruenberg and Barr confirmed on Tuesday that they are considering serious action against the people who ran the banks.
Becker took home about $10 million in compensation last year. Joseph DePaolo, the former CEO of Signature Bank, received about $8.6 million.
Both the FDIC and Federal Reserve have the authority to claw some of that money back and further penalize bank executives. Potential consequences include prohibition from banking, civil money penalties, or the payment of restitution.
Martin Gruenberg, chairman of the board of directors of the Federal Deposit Insurance Corporation, said his agency is already conducting investigations.