Moscow was hit by drones Tuesday morning, in what appeared to be the first attack on residential areas of the Russian capital since the invasion of Ukraine and a dramatic display of the Kremlin's war increasingly coming home.
The incident caused damage to some buildings in Moscow and forced residents to evacuate homes, local officials said.
It comes weeks after an alleged drone attack on the Kremlin itself and following days of deadly Russian bombardment against civilians in Kyiv, as events far from the front lines take the spotlight ahead of Ukraine's planned counteroffensive.
The Russian defense ministry said in a statement Tuesday that eight "aircraft-type" unmanned aerial vehicles were involved in the alleged attack on Moscow. All drones were destroyed, it added.
Three were jammed and lost control, the ministry said, and the other five were shot down by the Pantsir-S anti-aircraft missile system in the Moscow region.
The ministry blamed Ukraine for what it called a "terrorist attack."
Mykhailo Podolyak, an adviser to Ukrainian President Volodymyr Zelenskyy, said that his country "has nothing directly to do" with the drone attacks on Moscow. Ukraine is, however, "pleased to observe and predict an increase in the number of attacks," he said in a YouTube interview Tuesday.
Moscow Mayor Sergei Sobyanin said that drone attacks had "caused minor damage to several buildings." In a series of posts on the Telegram messaging app, Sobyanin said two people "sought medical attention" and there were no serious injuries.
He added that "for safety reasons" some residents were evacuated from some parts of the two affected buildings while emergency services were working on the scene.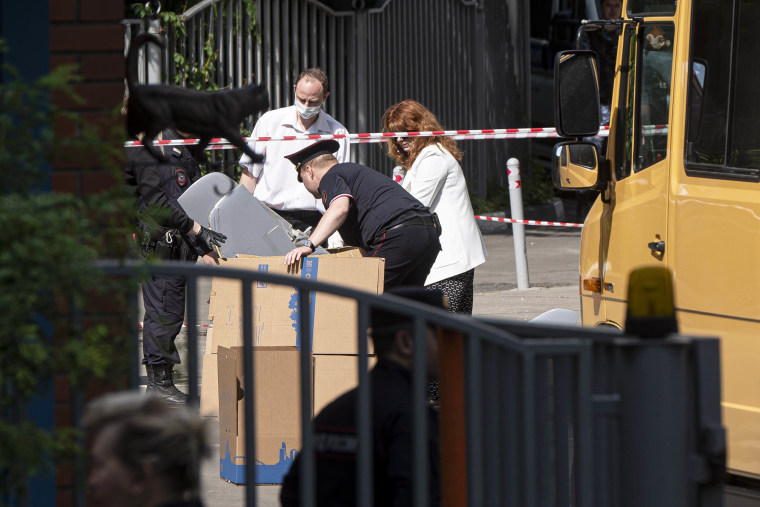 Russian investigators collect parts of a drone that reportedly damaged an apartment building in Moscow on Tuesday.
AP
Andrei Vorobyov, governor of the Moscow region, said in a message on Telegram that "several drones" were shot down on approach to Moscow.
Vorobyov said residents of some areas of the wider region could hear sounds of explosions Tuesday morning that he said were air defense systems working. "I ask people to remain calm," he added.
Russian authorities said an investigation had been launched into the drone attacks.
State news agency Tass reported that all airports in Moscow and the wider region were operating normally. The agency also reported that a woman received a "light shrapnel wound" after her residential building in southwest Moscow was hit by a drone.
Meanwhile, the Ukrainian capital was hit by yet another Russian attack — the 17th since the beginning of May alone.
Kyiv's military administration reported strikes on several districts of the city and debris falling on residential structures and cars, causing some to catch on fire. One person was reported killed and at least seven more injured.
Russia launched "several waves" of attacks with a combination of drones and missiles, the administration said, after a rare daytime attack Monday that marked an intensifying assault on the city.
But while Ukraine's capital has faced relentless bombardment, Tuesday's drone strikes were unprecedented for Moscow.
It comes four weeks after Russia said two drones targeted the Kremlin, in what it called an assassination attempt on President Vladimir Putin. Moscow blamed Kyiv for that alleged incident as well, a charge Ukrainian officials denied.
The war in Ukraine has been creeping further into Russia in recent months, with drone attacks on military installations and oil refineries inside the country. Last week's raid into the Belgorod region near the border, claimed by a pair of anti-Putin militias, left authorities scrambling to respond.
On Monday, the region's governor reported "a large amount of damage" after he said several settlements were shelled by Ukrainian forces. One person was killed and several injured, Vyacheslav Gladkov said.
The border region has repeatedly come under attack since the beginning of the war, though Ukraine has frequently denied responsibility for the growing wave of attacks within Russia.
Russian mercenary chief Yevgeny Prigozhin blamed his country's own military leaders for allowing the drone attacks.
In an expletive-ridden audio statement on his social channels, Prigozhin scorned Moscow's defense ministry — the latest public rebuke for a ruling elite he recently warned could not just lose the war but lead Russia toward a a revolution similar to those of 1917.
"The fact that they are flying to Rublyovka to your home, to hell with it! Let your houses burn," he said, referring to an upscale area of Moscow popular with Russian oligarchs. "And what do ordinary people do when drones with explosives crash into their windows?"