For the first time since 1937, a Chinese man competed in the main draw of the French Open — and, actually, a total of three did, all playing opening-round matches on Monday.
The first of the groundbreaking group in action on the red clay of the Grand Slam tournament at Roland Garros was Shang Juncheng, who made it into the field via qualifying and faced Juan Pablo Varillas of Peru on Court 5.
With some Chinese flags waving in the stands and chants of support from spectators, Shang grabbed a two-set lead at the outset. But it was Varillas who emerged with a 4-6, 2-6, 6-2, 6-3, 6-1 comeback victory after nearly 3 1/2 hours.
The next turn went to Wu Yibing, who took on No. 19 seed Roberto Bautista Agut of Spain over on Court 12. Bautista Agut picked up the win by the relatively straightforward score of 7-6 (4), 6-1, 6-1.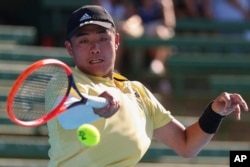 FILE - China's Wu Yibing plays a forehand return to Australia's Rinky Hijikata during their match at the Kooyong Classic in Melbourne, Australia, Jan. 11, 2023.
Later in the day, back on Court 5, Zhang Zhizhen gave China its first man in the second round at the French Open since Kho Sin-Kie got to the third round 77 years ago. Zhang advanced when his opponent, Dusan Lajovic of Serbia, stopped playing because of a stomach virus while trailing 6-1, 4-1.
"That's quite special," said Zhang, a 26-year-old from Shanghai who is ranked 71st.
"I mean, we have so many (people) waiting for us to get the first win," Zhang said. "Just step (by) step, and then we can get a lot of wins."
FILE - China's Zhang Zhizhen in action during his quarter final match against Russia's Aslan Karatsev at the Madrid Open at Park Manzanares, Madrid, Spain on May 4, 2023.
He was the first of the trio who played Monday to make a Grand Slam breakthrough, appearing at Wimbledon two years ago. In 2022, he and Wu both participated in the U.S. Open, with Wu getting to the third round there. In January, Zhang, Wu and Shang all were in the field at the Australian Open; Shang reached the second round.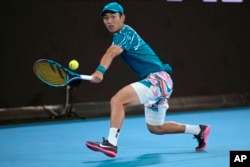 FILE - Shang Juncheng of China plays a backhand return to Frances Tiafoe of the U.S. during their second round match at the Australian Open tennis championship in Melbourne, Australia, Jan. 18, 2023.
Another big moment came in February, when Wu became the first Chinese player to win an ATP Tour title, beating John Isner in the final of the Dallas Open.
Zhang said he hopes he and his countrymen can someday achieve the sort of success Chinese women have accumulated in tennis.
That includes International Tennis Hall of Fame member Li Na, who won titles at the French Open in 2011 and the Australian Open in 2014.
Peng Shuai won two Grand Slam trophies in doubles and reached No. 1 in those WTA rankings; she also made it to the U.S. Open semifinals in singles. Peng dropped out of public view after making sexual assault accusations against a high-ranking Chinese government official in 2021. The WTA announced soon after that it would suspend all of its tournaments in China, a boycott that was lifted last month.