President Biden's approval rating remains underwater as he inches closer to announcing his 2024 re-election campaign. But don't tell that to White House officials and some Democrats who paint a rosy picture of Biden's presidency.
A FOX News poll found a majority of Americans are dissatisfied with how things are going in the country.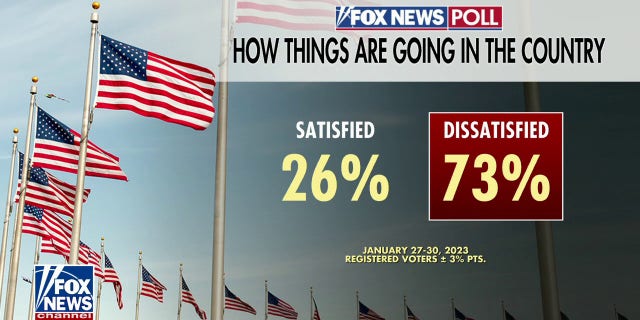 Some critics say upcoming GOP House investigations will only drag down the numbers further down.
Fox News' Jesse Watters argued on "The Five" Thursday Biden is in deeper trouble than anybody realizes.
"These investigations are going to be nasty. You got House Republicans, you have a special counsel, you have Hunter blowing up, and it's not looking good, Watters said. "Also, the far left is on the march. You have Liz Warren taking shots at Kamala Harris. And then Bernie's got a book out and he's going on tour. That means he might run for president."
"The economy, they say, is going into a light recession. And Vladimir Putin is about to throw a half a million soldiers at Ukraine during the spring fighting season," Watters continued. "And then the guy [Biden] skipped his physical and covered it up. And lastly, his legislative agenda is grinding to a dead stop in Congress. I'm not seeing great stuff on the horizon."
Co-host Dana Perino marveled at how the White House is able to paint such a rosy picture in public despite major setbacks like the withdrawal from Afghanistan, high inflation and rising gas prices over the summer and into the fall.
She argued outgoing White House Chief of Staff Ron Klain had a lot to do with the messaging coming from the administration.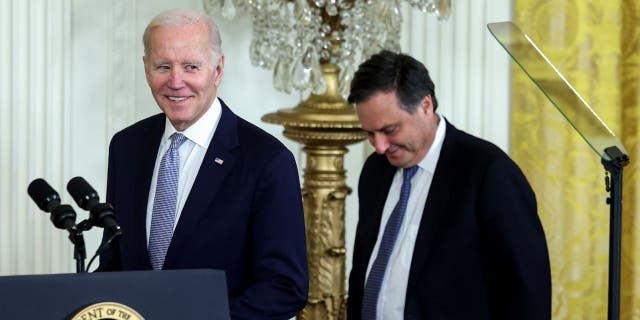 WASHINGTON, DC - FEBRUARY 01: (L-R) U.S. President Joe Biden, outgoing Chief of Staff Ron Klain and incoming Chief of Staff Jeffrey Zients arrive for an event to welcome Zients in the East Room of the White House on February 01, 2023 in Washington, DC. The event also gave Biden an opportunity to thank Klain, the longest-serving first chief of staff for any Democratic president. A business multimillionaire and long-time federal government official, Zients most recently served at the White House coronavirus response coordinator. ((Photo by Kevin Dietsch/Getty Images))
"Look, give him his due he won in the tug of war of President Biden wanting to be very empathetic and Klain wanting to tell everybody that everything is great, everything is fine.," Perino said. "And you know what? 'Afghanistan was the biggest airlift in history. And you will like this economy. You will love it. It's going to be great.' And you find out that the train that they're talking about stops at the inflation station and it's a runaway situation."
The former White House press secretary added Republicans need to start considering how Democrats are framing the economic agenda ahead of 2024.
BILL CLINTON'S FORMER POLLSTER WARNS DEMOCRATS ABOUT 2024; FORGET BIDEN, FOCUS ON WORKING CLASS
"Democrats are trying to say that any economic woe that you have right now goes back to the 2017 Trump tax cuts. It's nonsense. But that's what they're saying. They're forgetting the spending of COVID under both presidents. They're forgetting the Inflation Reduction Act, even though that was the Inflation Promotion Act and also the Environmental Inflation Act," Perino explained.
"I do think, though, that this change in the chief of staff, you could see a messaging change as well because now you have all these investigations like he's talking about and you have a situation with a Republican House. So I don't think you're going to hear all happy talk except for on Tuesday when the president gives the State of the Union."
CLICK HERE TO GET THE FOX NEWS APP
Biden is expected to be the Democratic nominee and announce his re-election campaign sometime after his State of the Union address.
Ashley Carnahan is a production assistant at Fox News Digital.