Reporters at Monday's White House press briefing piled on press secretary Karine Jean-Pierre over President Biden's decision to join the United Auto Workers (UAW) on the picket line Tuesday amid their strike against the Big Three car manufacturers.
During the briefing, an increasingly frustrated Jean-Pierre pushed back as multiple members of the media questioned why Biden would be picketing alongside the union members if the administration's position was to avoid getting involved in the negotiations between the companies and the UAW.
One reporter asked if Biden's decision to picket meant he supported the demands of the union, such as a 40% pay increase and a shorter work week.
"I'm not going to get into the details of what's being negotiated right now on the table with — certainly with the parties," Jean-Pierre said, a position she continued to take amid the subsequent questions about Biden's plan to picket.
WATCH: KARINE JEAN-PIERRE DODGES WHEN PRESSED ON BIDEN'S SOUR APPROVAL RATING, AGE, MENTAL FITNESS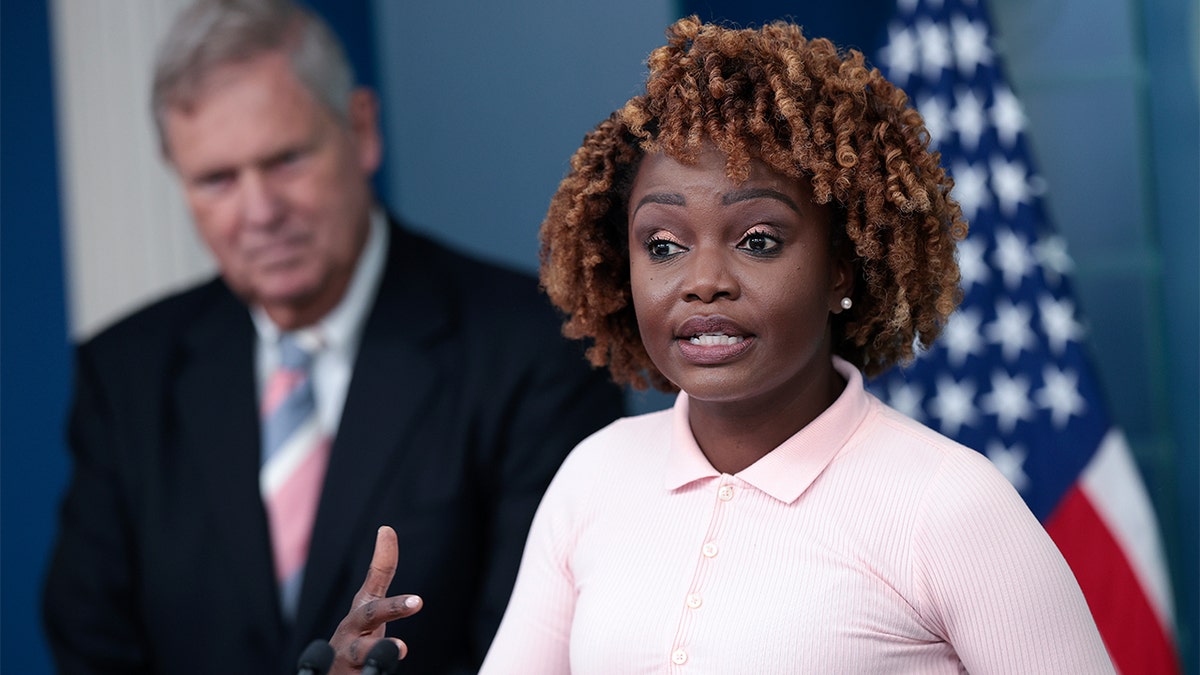 White House press secretary Karine Jean-Pierre answers questions during the daily press briefing with Secretary of Agriculture Tom Vilsack at the White House on September 25, 2023, in Washington, DC. (Win McNamee/Getty Images)
"I want to press you a little bit on what you just said. You said that the president supports the autoworkers. Does that mean that the president is siding with the autoworkers over the auto companies?" another reporter asked.
"What we're saying is we're not going to get into the negotiation. Right? This is — When it comes to a negotiation, that is something for the parties to decide on. That is something for them to discuss," Jean-Pierre said.
Another reporter suggested Biden was "interfering" with the negations by joining the picket before calling out Jean-Pierre's refusal to get into specifics about the dispute while Biden plans to "literally" stand with workers and their terms.
"To be very clear, he is standing with them to make sure that they get a fair share. That is what he's standing with them on. He's standing with them — and we've said this — that they get — the record profits mean a record contract for UAW. That is why he's going. That is what he's standing for," she responded.
HOUSE REPUBLICANS ANNOUNCE FIRST BIDEN IMPEACHMENT INQUIRY HEARING TO BE HELD THIS WEEK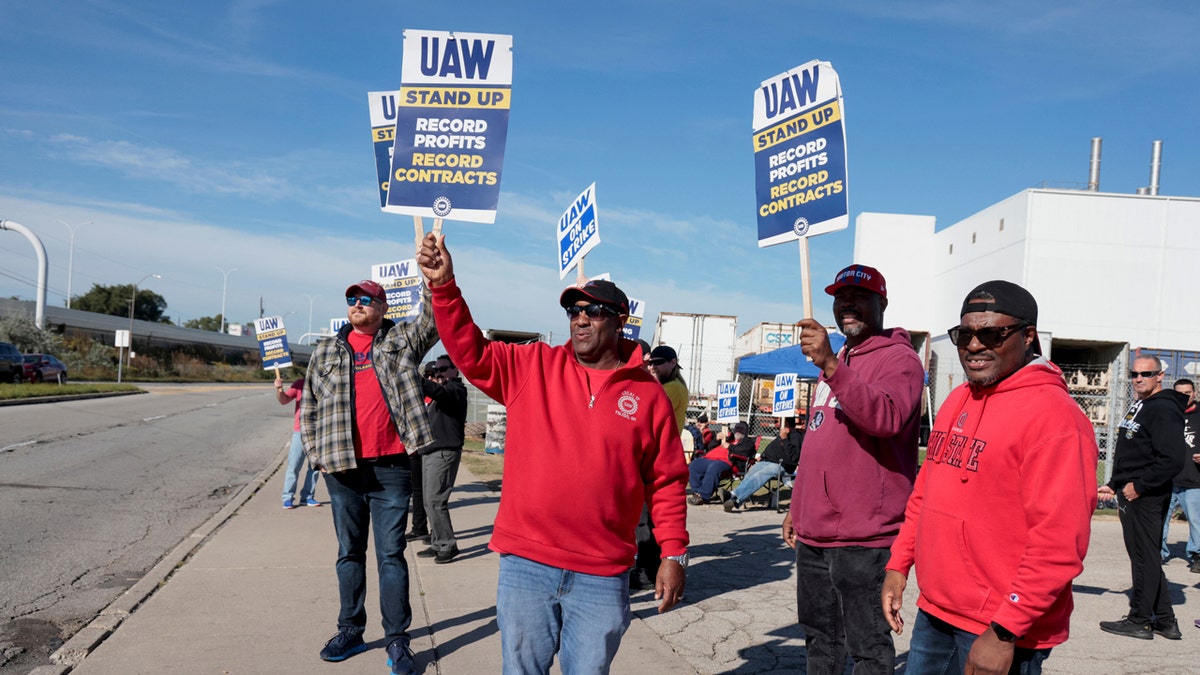 Striking United Auto Workers members picket outside the Stellantis Jeep plant, in Toledo, Ohio, on Sept. 19, 2023. (REUTERS/Rebecca Cook)
She added that the two sides in the dispute would have to decide what "a win-win" would look like, but that Biden thought the workers "deserve a fair share."
"But it seems like he's taking away the — some past presidents have been an arbiter between two sides that are in conflict. It seems like going to the picket line, he's not an arbiter between the two sides. He's choosing a side by standing on the picket line," the reporter said, calling the administration's position "confusing."
"I disagree. It is not confusing. What he is saying, and we've been very clear, he stands with union workers. He stands with the workers. He has said, and they have said, he is the most pro-union president in history. And that is what he's doing. He is going to stand in solidarity at the picket line with the workers," Jean-Pierre hit back.
Another reporter began to also ask about the picket, sparking protest from Jean-Pierre.
AOC GRILLED ON HER NON-UNION ELECTRIC VEHICLE WHILE SUPPORTING UAW STRIKE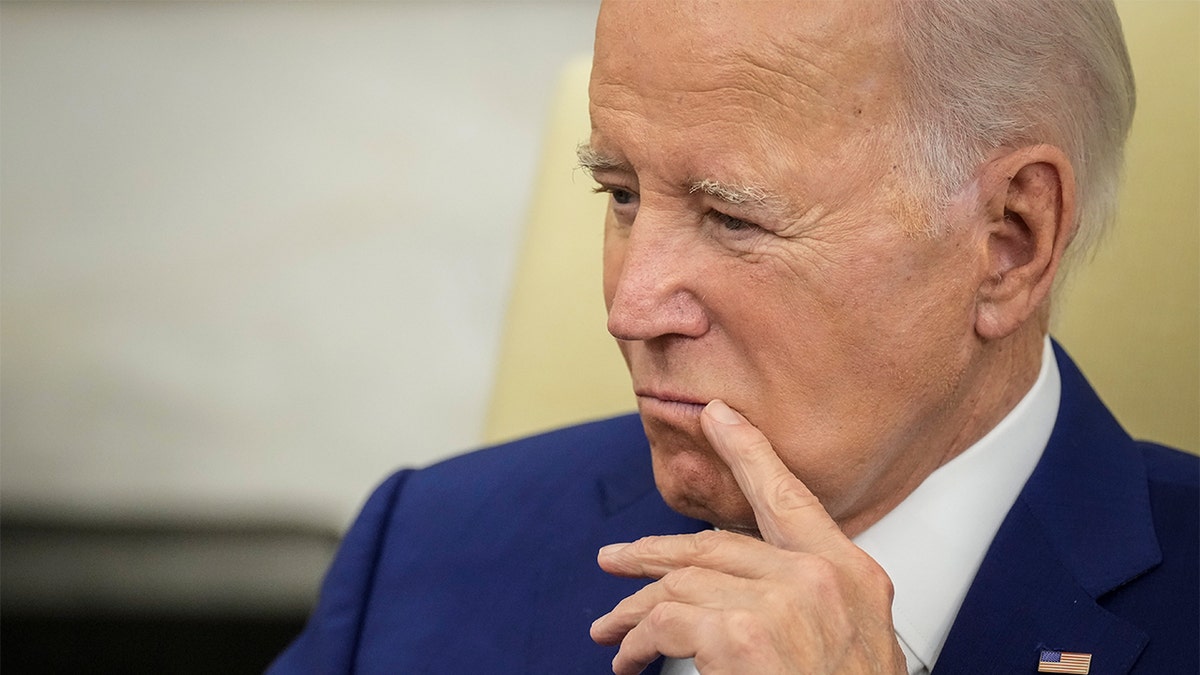 President Joe Biden meets with Swedish Prime Minister Ulf Kristersson in the Oval Office of the White House July 5, 2023, in Washington, DC. (Drew Angerer/Getty Images)
"Oh my goodness. You're going to ask the same question? I'm not going to change my answer," she said, with what appeared to be a frustrated laugh.
"It's fine. I'm going to ask again," the reporter said.
"Feel free. And I'm going to give you the same answer," Jean-Pierre responded.
The reporter questioned if Biden would be visiting the picket line or if he would actually be walking it.
"He's going to join the picket line," Jean-Pierre said.
AMERICANS, STAND WITH THE UAW AND ME AND FIGHT OUT-OF-CONTROL CORPORATE GREED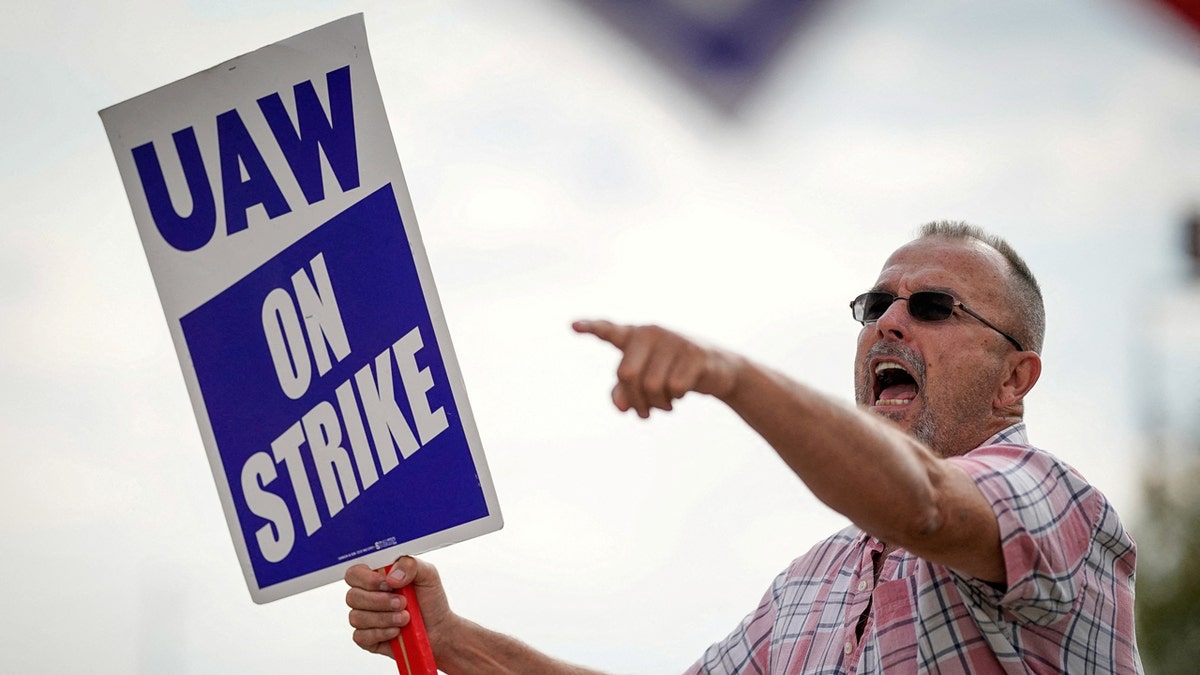 A General Motors assembly worker pickets outside the General Motors Bowling Green plant during the United Auto Workers national strike in Bowling Green, Kentucky, on Oct. 10, 2019. (REUTERS/Bryan Woolston/File Photo / Reuters Photos)
She then dismissed the reporters question whether there could be "political risk" involved in joining the picket.
CLICK HERE TO GET THE FOX NEWS APP
"He is standing with the autoworkers. He is standing with the workers. We are not involved in negotiations. That is something for them to decide what is going to work for the parties that are involved. But he is standing with the autoworkers. That's what the president is doing," she said.