Virginia Gov. Glenn Youngkin asked House and Senate budget leaders Wednesday to include "the necessary resources" in their spending plans to address an error in a state-provided formula that led local school divisions to expect more state aid than they are set to receive.
"I am requesting that as you finalize your budget amendments this week that you include the necessary resources to address this error. I am confident that when you consider the continued outperformance of the Commonwealth's collections, the most up to date K-12 funding resource projections, and sales tax projections, as well as other surpluses, this resource gap can be filled," Youngkin said.
The request came in a letter addressed to Janet Howell and George Barker, the Democratic co-chairs of the Senate Finance Committee, and Republican Barry Knight, chairman of the House Appropriations Committee.
CALIFORNIA HIGH SCHOOL FOOTBALL COACH SHOT AFTER BREAKING UP FIGHT: POLICE
The Department of Education earlier this week disclosed the error, which was in a spreadsheet it makes available to local divisions. The mistake led to funding calculations that were overly generous, a difference of $201 million statewide over two fiscal years.
Knight said in a floor speech Wednesday that because of Virginia's flush financial situation, the situation can and will be resolved easily.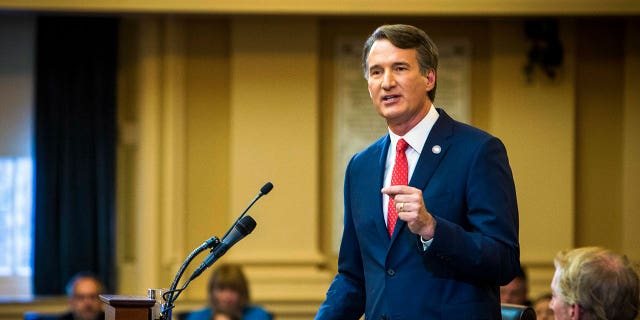 Virginia Gov. Youngkin delivers an address to the state legislature in Richmond on Jan. 11, 2023 (AP Photo/John C. Clark, File)
"No school division will have to reduce expenditures in the current fiscal year. Let me repeat, there will be no cuts this year," he said.
Barker said in a statement that his committee would be discussing potential fixes in the coming days.
FLORIDA HIGH SCHOOL STUDENT BODY-SLAMS POLICE OFFICER DURING FIGHT: 'DESPICABLE'
"Our main focus is making sure our school divisions, especially the rural smaller localities who will be most hurt by this error, will be made whole," he said.
Democrats have been highly critical of the governor's administration for the mistake.
CLICK HERE TO GET THE FOX NEWS APP
School administration officials and advocacy groups have expressed concern and said they hope lawmakers would find the resources to meet schools' expectations.
Youngkin wrote in his letter that the situation was "frustrating for us all," adding, "I am working with the Department of Education to ensure this mistake will not happen again."