Colorado Buffaloes star Travis Hunter wants to get back on the football field with his team set to face the USC Trojans this coming weekend after beating dominated by the Oregon Ducks, 42-6, on Saturday.
But head coach Deion Sanders won't let that happen, despite Hunter's bold request.
Hunter suffered a lacerated liver on what was considered a "dirty hit" by Colorado State safety Henry Blackburn during the Buffaloes' double-overtime win two weeks ago. A two-way player that has produced at both receiver and cornerback, Hunter's absence was notable against a good Ducks team that gave the Buffaloes an "old-fashioned" beat down, as "Coach Prime" put it.
CLICK HERE FOR MORE SPORTS COVERAGE ON FOXNEWS.COM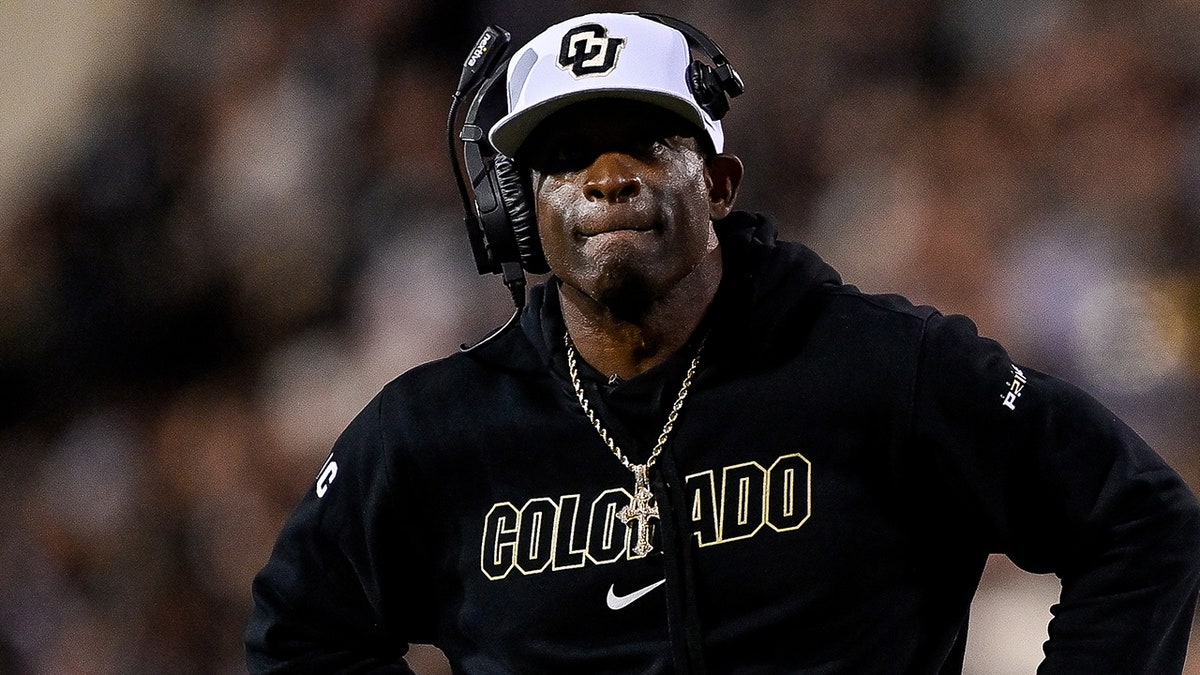 Head coach Deion Sanders of the Colorado Buffaloes looks on from the sideline in the third quarter against the Colorado State Rams at Folsom Field in Boulder, Colorado, on Sept. 16, 2023. (Dustin Bradford/Getty Images)
So Hunter texted his coach to let him play against an even-tougher USC squad this Saturday. Sanders shared the conversation with his team during a meeting.
"I need to play this week. We need to get everything we can so I can get back on the field. I'm not taking no for an answer," Sanders said Hunter texted him.
COLORADO'S TRAVIS HUNTER TALKS TOUGH INJURY: 'JUST GOTTA GET UP AND FIGHT AGAIN'
Of course, Sanders misses one of his star players on the field. But he explained why he won't let him back just yet.
"No, you ain't ready and I care about you more than I care about this game," Sanders replied. "You're going to change the game of football one day when you're healthy and ready. Your future is brighter than mine ever would be and ever was. Relax and get healthy. I love you son."
Sanders shared the text exchange with Hunter to show his team that, no matter how much the player means to the team's success on game day, he's always thinking about them as the person under the helmet and pads.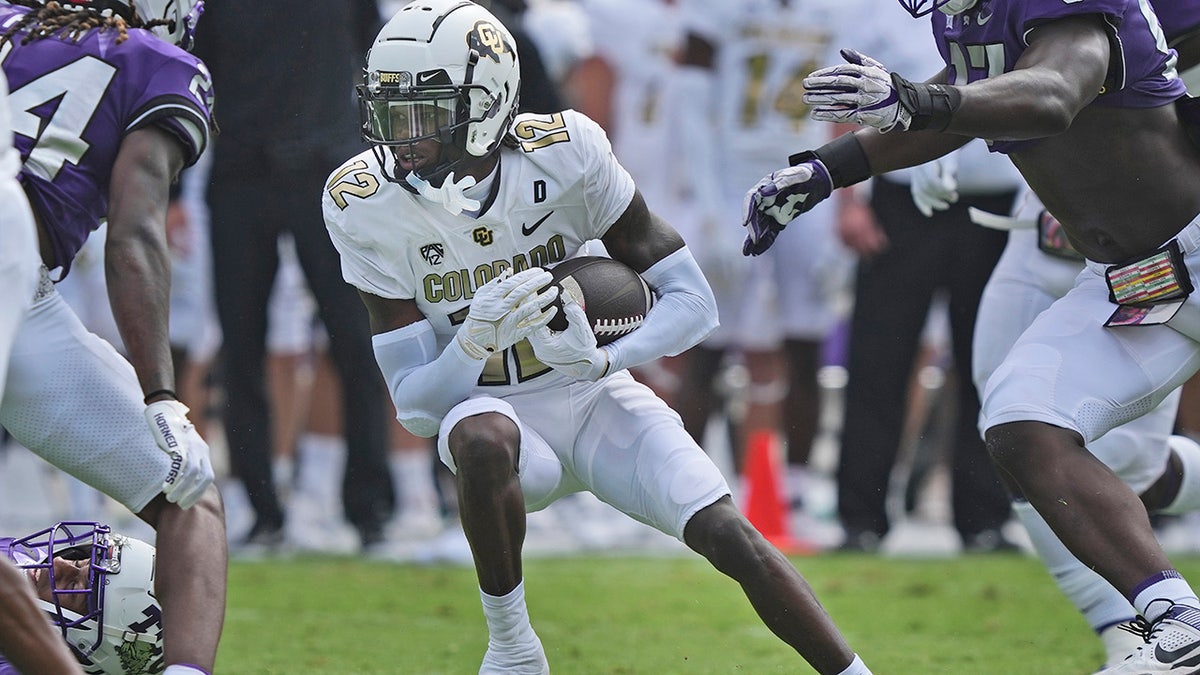 Colorado cornerback Travis Hunter runs against TCU during the first half of the game in Fort Worth, Texas, on Sept. 2, 2023. (AP Photo/LM Otero)
"I care about y'all more than I care about this game," Sanders said to his squad.
Hunter had to be transported to the hospital after he came out of the Colorado State game following Blackburn's hit. Sanders told reporters after the game that Hunter would be missing time because of his injury.
"Good thing the doctors stopped me because if there was no doctors there I'd still be out there playing," Hunter said during a Bleacher Report interview last week.
In three games this season, Hunter has wowed with his prowess on both sides of the ball as well as his stamina, considering he's constantly on the field.
On offense, Hunter has 213 yards on 16 catches. He also has one interception, two passes defended and nine tackles in three games.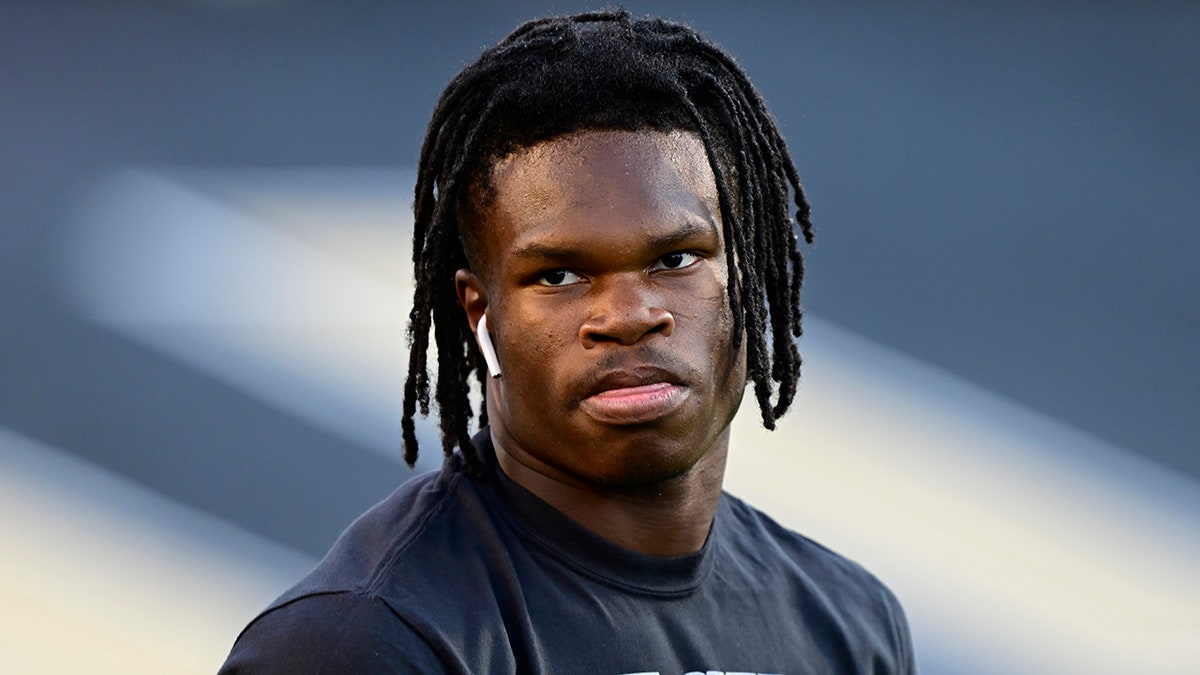 Colorado Buffaloes cornerback Travis Hunter looks on during warmups before the Rocky Mountain Showdown against the CSU Rams at Folsom Field in Boulder, Colorado, on Sept. 16, 2023. (Denver Post via Getty Images)
CLICK HERE TO GET THE FOX NEWS APP
It's unknown when Hunter will be back helping Sanders and the Buffaloes win more games, but Coach Prime will make sure he's 100% healthy when he does.
Scott Thompson is a sports writer for Fox News Digital.