Nashville, Tennessee CNN —
Harmony Fletcher likes to read and does so every night, but that was not enough to help her pass the English-Language Arts portion of Tennessee's assessment exam (TCAP) last spring, her mother, Shaneta Fletcher, said.
Now the nine-year-old is one of eight students repeating third grade at the public charter school she attends in Memphis.
"She's dealing with it, but she don't like that she failed third grade," Fletcher said. "I think it was the test. She reads to me every evening. She can read fine and write sentences fine."
Test-based promotion – or third grade retention – laws are not new, but while many states allow children to be held back, Tennessee is the latest to require that children who cannot read proficiently by third grade be retained, part of an effort to reverse severe learning loss from the Covid-19 pandemic.
Forty percent of Tennessee third graders scored "proficient" in reading last spring, a jump from previous years. Still, that means some 60% were not proficient and while statewide data is not yet available, the three largest school districts told CNN they retained less than 1.5% of third graders.
Tennessee's legislature passed the new law in 2021, as the nation was emerging from months of disruption caused by the pandemic. Children like Harmony were in first grade when the pandemic struck and missed vital classroom instruction in the fundamentals of reading.
"Kids lost a lot of ground. I think a lot of states are moving toward this because we're having to bring out a big treatment to try and remediate a year's loss," said Gregory Cizek, a professor of educational measurement and evaluation at the University of North Carolina at Chapel Hill.
Reading proficiently by the end of third grade is essential to keeping up later, research shows, but a June report from the National Assessment of Educational Progress (NAEP) showed just a third of US fourth graders were proficient in reading last year. US Education Secretary Miguel Cardona has said it will "take years of effort and investment" to reverse the damage from pandemic learning loss.
Many parents question whether holding back children is the right answer. Michigan Gov. Gretchen Whitmer repealed a similar law in March after a backlash.
Under the Tennessee law, struggling students can still be promoted if they meet conditions like passing a retake of the test, completing summer school with 90% attendance and agreeing to tutoring throughout fourth grade. Parents could also appeal retention if they can show the child performed well on one of the "screener" reading tests taken several times a year.
Harmony attended summer school, which her mother said was more like summer camp, but did not pass the retake.
"They say that for them repeating the third grade, it would be a chance for them to become a better reader. The principal was saying 'Don't look at it as a bad thing. They should pass the test this time,'" she said.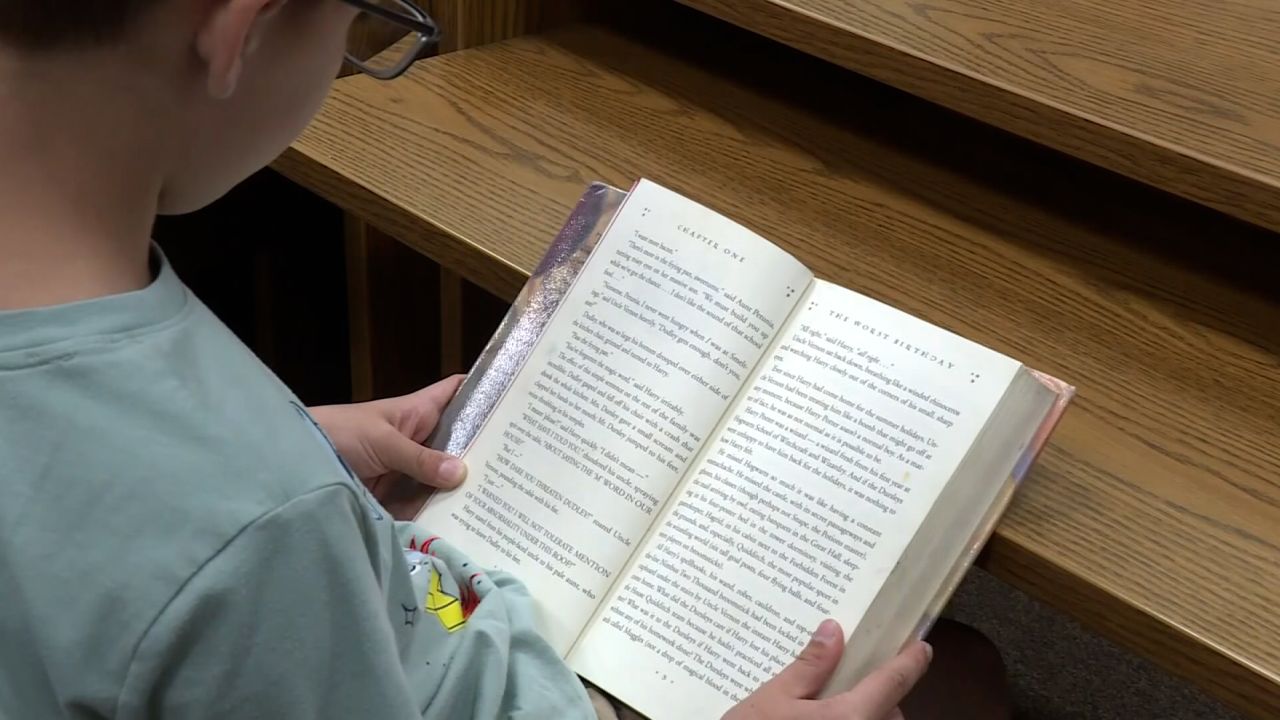 Tamara Adams worried retention would affect her son emotionally among his peers in their small mountainside community in Sparta, Tennessee. She opted to send him to summer school after he scored "approaching" proficiency on TCAP, but said it was too short and was not focused on reading.
"Yes, my kid needs extra help in reading and retention, but he didn't get it in summer school," she said. "At the end of 16 days, they re-tested them. My son did not meet the 5% growth [in reading skills benchmark]. I don't know many who did. He was promoted to fourth grade because he did not miss a single day."
He is now tutored before and after school, but Adams said she is terrified about the TCAP test he must take at the end of fourth grade. He will have to show "adequate growth" to move on to fifth grade.
Some studies suggest academic gains from retention are short-lived and the practice increases drop-out rates and bullying. In a 2021 brief, researchers at the University of Connecticut advised districts to instead rely on research-supported interventions for students like tutoring, socio-emotional support and teacher training.
It will take time to measure the impact of Tennessee's law, but a similar law adopted in Mississippi in 2013, as part of a comprehensive push to improve literacy outcomes, has shown promise. Boston University researchers found retained third graders who got extra support saw substantial gains in their English-Language Arts skills by sixth grade compared to students narrowly promoted to fourth grade. Average fourth grade reading scores on the NAEP rose by 10 points between 2013 and 2019, more than any other state, according to the study.
Mississippi holds back between 4 and 10 percent of third graders annually due to reading and other issues, state officials said.
"No intervention works for every child," said Cizek. "But in general, we know the difference between highly effective and less effective interventions and if you're going to engage in a retention policy, it's key to pair that up with the required effective intervention."
Bob Nardo, the executive director at Libertas School of Memphis, where Harmony is a student, said students being retained will have a modified curriculum to keep them engaged and will receive what he called "high dosage tutoring" – 30 minutes two to three times a week in a group of no more than three students – during the day or after school.
The TCAP English-Language Arts assessment is a three-hour, four-part exam that requires third graders to demonstrate an ability to read and understand texts, provide a written response to prompts and show command of the English language. Students' vocabulary is also tested, with sample multiple choice questions asking them to define words like "discontinue" and "gadget" used in a sentence.
But some parents say too much is riding on TCAP.
In Nashville, Marthia Sides-Shaw's daughter Echo is a straight-A student and an avid reader, but she was flagged as not proficient during the school year.
"[In] December we got this note that says 'your child is not proficient in reading', which was really kind of a joke, because she reads at like a sixth grade level," Sides-Shaw said. "Echo's teachers. I contacted them first. And they said that this was ridiculous…she's one of the best readers in the third grade. So this didn't really make sense."
Sides-Shaw said her daughter was not used to timed exams. Echo passed the assessment in May but her mother still worries about the outsized focus on a single exam and wants more consideration given to a child's grades and what their teachers have to say about their readiness to move on to fourth grade.