Lawmakers in the upper chamber are gearing up for a cloture vote measure Tuesday evening to end negotiations and extend government funding past the Sept. 30 deadline with a "clean" Continuing Resolution (CR).
Sources indicate, however, the measure — which has yet to be revealed — may not allocate significant resources toward disaster relief or aid for Ukraine.
Locking arms across the aisle, both Senate Majority Leader Chuck Schumer, D-N.Y., and Minority Leader Mitch McConnell, R-Ky., want to prevent a government shutdown that is fast approaching if a funding patch isn't agreed on by Thursday. Senators have already lost a business day from Yom Kippur recess on Monday.
"We now have four days to go until funding expires on Saturday at midnight, we are now right at the precipice," Schumer said Tuesday on the Senate floor. "Over the weekend, Senate Democrats and Republicans together worked in good faith to reach an agreement on a continuing resolution that will keep the government open beyond Sept. 30. We are very close to finishing our work and hope to release text very soon."
CONGRESS RETURNS TO DC WITH FIVE DAYS TO AVERT A GOVERNMENT SHUTDOWN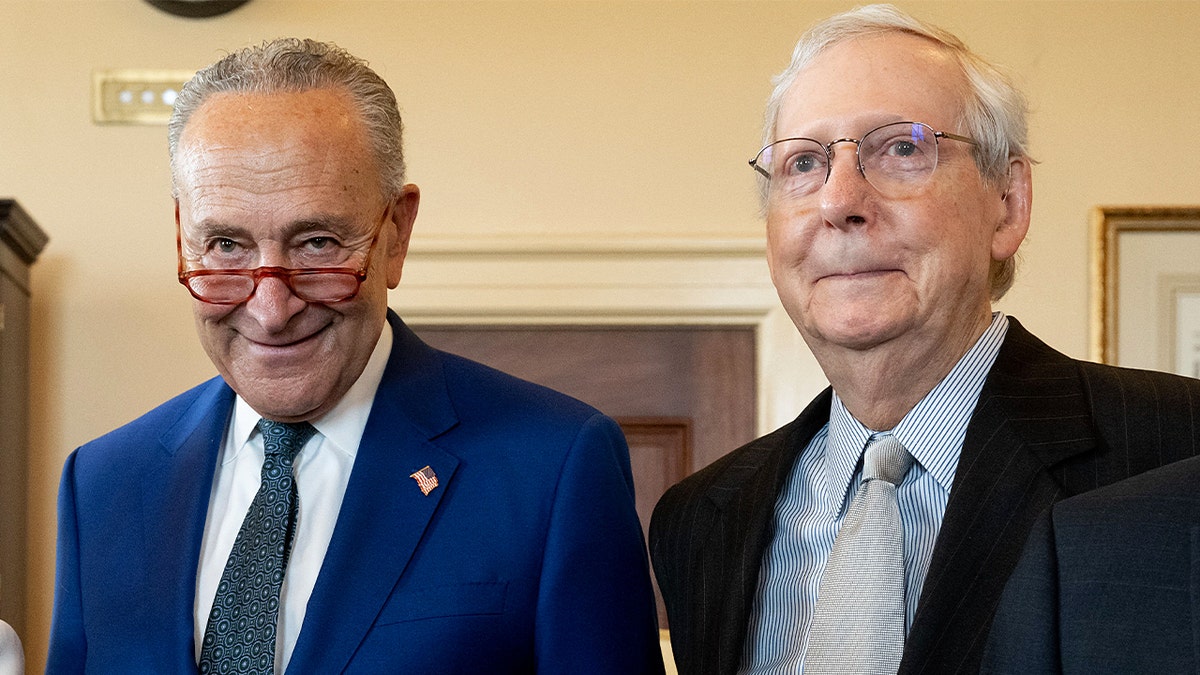 Senate Majority Leader Chuck Schumer, D-N.Y., left, and Senate Minority Leader Mitch McConnell, R-Ky. (Saul Loeb)
Schumer called the CR "a bridge towards cooperation and away from extremism," while McConnell said "colleagues in both chambers are rightly concerned about a number of distinct priorities and are focused on taking further action to rein in reckless spending as we continue to rebuild our national defense."
"They're concerned about addressing the consequences of the bad administration's failure to secure our southern border," McConnell said of the House. "We are eager to provide relief to communities recovering from natural disasters from Hawaii, to Florida, and bipartisan majorities recognize the ongoing need to counter Russia and China and continue to provide lethal aid to Ukraine."
But the CR — which is a temporary protocol used by Congress to fund the federal government when the regular appropriations process has not been completed by the end of the fiscal year — may leave out most of President Biden's $24 billion aid to Ukraine request, according to a Senate aide close to the matter.
The aide told Fox News Digital on Tuesday afternoon that "reports about a small amount of Ukraine money is true, but it's nowhere near the full package amount."
"Goal here is to keep the government open while House and Senate move through the appropriations process," the aide said.
The cloture vote is just "one step of many" in the process, and a bill text either late Tuesday or early Wednesday is expected, the source said.
GOP NEGOTIATORS HIT BACK AT REPUBLICAN REBELS AS SHUTDOWN THREAT LOOMS: 'EMPOWERING SCHUMER'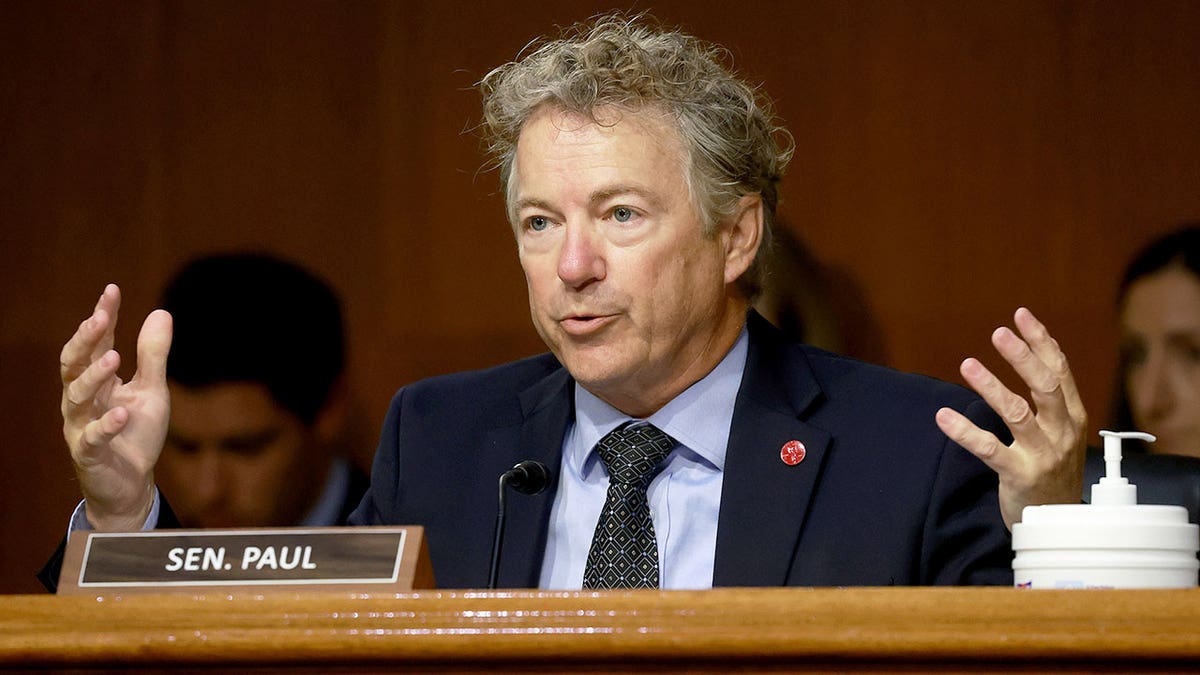 Sen. Rand Paul, R-Ky., speaks during the COVID Federal Response Hearing on Capitol Hill in Washington, D.C., on June 16, 2022. (Joe Raedle)
Several GOP senators have signaled they're prepared to slash down a large budget for Ukraine aid, including Sen. Rand Paul, R-Ky., who sits on the Committee on Foreign Relations.
"I will oppose any effort to hold the federal government hostage for Ukraine funding. I will not consent to expedited passage of any spending measure that provides any more U.S. aid to Ukraine," Rand threatened on X, formerly known as Twitter.
And disaster relief is another point of contention, as some Senate Democrats want to lump in disaster relief with Biden's emergency funding request that includes aid to Ukraine and firefighters, instead of voting on each bill one by one. Conservatives in the chamber such as Sen. Rick Scott, R-Fla., are in favor of singling out the packages.
On Tuesday, Scott demanded passage of his Federal Disaster Responsibility Act, which would replenish the Federal Emergency Management Agency's budget. Last week, Democrat Sen. Sheldon Whitehouse of Rhode Island blocked Scott's request on the Senate floor for a vote on the bill because it didn't include Ukraine aid.
MCCARTHY SIGNALS HOUSE COULD SOON VOTE ON SHORT-TERM SPENDING BILL TO AVERT SHUTDOWN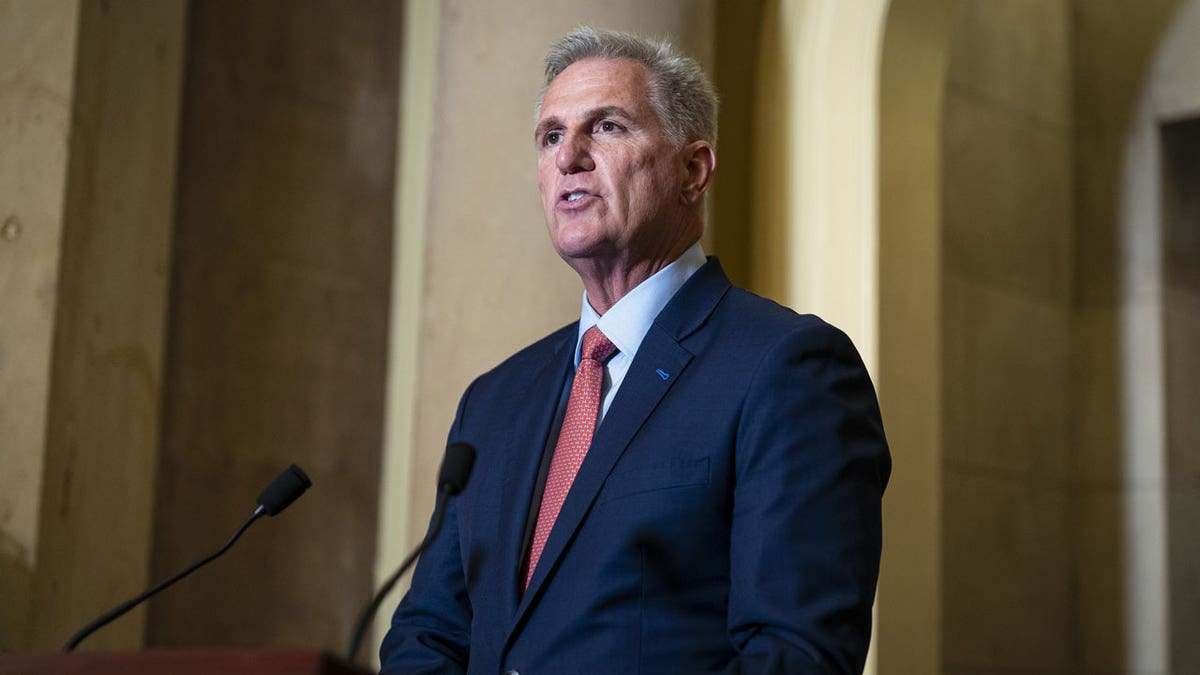 House Speaker Kevin McCarthy, a Republican from California, speaks to members of the media at the Capitol in Washington, D.C., on Sept. 12, 2023. (Al Drago/Bloomberg via Getty Image)
"I've heard rumors that the continuing resolution will have $20 billion for the Disaster Relief Fund," Scott said Tuesday in a statement. "That's $16 billion less than what FEMA has told us it needs to be whole and continue showing up for disasters. That's why my bill would authorize additional funding — on top of whatever funding is in the CR — so we can deliver urgently needed supplemental disaster funding for families in Florida, California, Hawaii and other states recently impacted by disasters, as well as block grants for American farmers."
For cloture to pass, it will require the support of 60 senators. The vote is scheduled for 5:30 p.m. ET.
Meanwhile, the House is also expected to vote on a short-term spending bill soon after holding a key vote to proceed with four yearlong appropriations bills on Tuesday night, with border security leading the discussion.
"The Republicans will put on the floor a move to secure our border. I think that's the appropriate way to be able to keep government funded, secure border while we continue to keep government open to work on the rest of the appropriations process," McCarthy told reporters Tuesday morning.
Fox News' Elizabeth Elkind contributed to this report.
Jamie Joseph is a writer who covers politics. She leads Fox News Digital coverage of the Senate.