WASHINGTON — More than 30 House Democrats have signed onto a new resolution "recognizing Israel as America's legitimate and democratic ally and condemning antisemitism."
The most notable among them: Rep. Ilhan Omar, D-Minn., a Muslim American who has been a fierce critic of Israel and the Jewish lobby and is expected to be ousted by Republicans on Thursday from the Foreign Affairs Committee for what members of both parties said were antisemitic remarks.
The copy of the resolution, authored by Rep. Josh Gottheimer, D-N.J., who is Jewish, was first obtained by NBC News.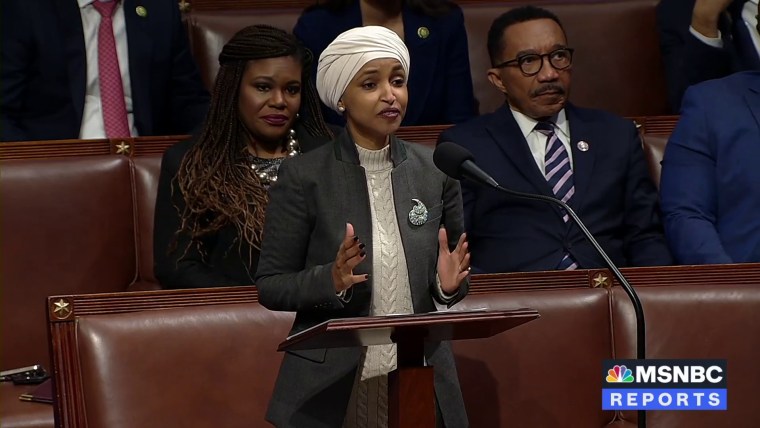 It's a dramatic evolution for Omar, who infuriated Democrats and Republicans in 2019 after she tweeted that the American Israel Public Affairs Committee (AIPAC) and other Jewish donors were paying politicians to back Israel, saying: "It's all about the Benjamins baby."
In response to the outcry, the Democratic-controlled House passed a resolution condemning "anti-Semitism, Islamophobia, racism and other forms of bigotry." The vote was 407-23.
Omar, a Somali refugee and one of the first two Muslim American women elected to Congress, also came under fire from fellow Rep. Brad Schneider, D-Ill., and other Democrats after they said she equated the "United States and Israel to Hamas and the Taliban."
But since then, she has had numerous conversations about Israel with prominent Jewish members of Congress, leading to her signing onto the Gottheimer resolution this week.
And all Democrats are expected to back Omar on Thursday and vote no on the GOP resolution to remove her from the Foreign Affairs panel.
Omar plans to speak on the House floor ahead of the vote.
"Representation matters. Continuing to expand our ideas of who is American and who can partake in the American experiment is a good thing," she is expected to say, according to prepared remarks. "I am an American. An American who was sent by her constituents to represent them in Congress. A refugee who survived the horrors of a civil war, as someone who spent her childhood in a refugee camp, and as someone who knows what it means to have a shot at a better life in the United States. Someone who believes in the American dream, in the American promise, and the ability to voice that in a democratic process."
In addition to Omar, dozens of other Democrats have signed onto the Gottheimer resolution. They include: Reps. Schneider; Debbie Wasserman Schultz, Fla.; Dean Phillips, Minn.; Lois Frankel, Fla.; Kathy Manning, N.C.; Elissa Slotkin, Mich.; Jared Moskowitz, Fla.; Dan Goldman, N.Y.; Susan Wild, Pa.; Ritchie Torres, N.Y.; Bonnie Watson Coleman, N.J.; Donald Payne, N.J.; Rob Menendez, N.J.; Katie Porter, Calif.; Steven Horsford, Nev.; Henry Cuellar, Texas; Grace Meng, N.Y.; and Abigail Spanberger, Va.