Thousands flocked to a small Missouri town over the weekend to see the exhumed body of a nun who has barely decomposed since she died in 2019.
Sister Wilhelmina Lancaster, 95, was exhumed in April, nearly four years after her May 29, 2019, death, according to the Benedictines of Mary, Queen of Apostles, in Gower, which is about 45 minutes north of Kansas City. Her body is set to be placed in a glass shrine in the church on Monday.
Samuel Dawson, 63, and his son were among the visitors last week. He was raised Siciilan Catholic and said this was something he needed to see for himself.
"With all the negativity in the world, it was beautiful to see people from all races from around the country come together in peace," Dawson said about the visit.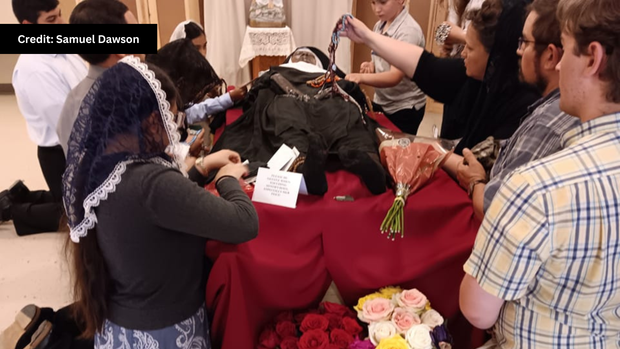 People visited the Benedictines of Mary, Queen of Apostles to see the body of Sister Wilhelmina Lancaster.
Samuel Dawson/Facebook
Around 10,000 to 15,000 visitors were expected each day over the holiday weekend, Clinton County Sheriff Larry Fish said in a Thursday Facebook Live video. They expect people from across the country, Canada and Mexico to visit for months.
"With that sure amount of people coming onto rural, gravel roads that are not designed for that kind of traffic, let alone even our lettered highways in the state of Missouri that are not designed for that kind of traffic either, we are going to put a very large pressure on our infrastructure that is not designed for it," he said.
The nuns said visitors coming to see Lancaster's body have not disrupted their life. They said they remain "unaffected and able to continue on in our life of ora at labora, prayer and work, as Sister Wilhelmina would have it."
"Unless we looked out the front windows, or out at the crowds attending our Mass and Divine Offices, we would not even know people are here," they wrote in a statement.
Lancaster's body was exhumed as preparation for the construction of a St. Joseph Shrine, the nuns wrote in a statement. Her body was buried in a wooden coffin without any embalming in very moist clay. The nuns said they expected bones, but that's not what they discovered.
"The intent was devotional, and to carry this out in the privacy of our cloistered life," they wrote. "Nevertheless, the discovery of what appeared to be an intact body and a perfectly preserved religious habit created an unexpected twist to our plans."
The nuns did not intend to publicize the news, but a private email was shared and the news spread, drawing thousands to visit.
The Diocese of Kansas City-St. Joseph said it's being investigated as a possible case of incorruptibility, which under Catholic tradition indicates a divine intervention that stops or slows decomposition as a sign of holiness.
"The Church has an established process for determining if someone is a saint and worthy of veneration. No such process has yet been initiated on behalf of Sister Wilhelmina," the Diocese of Kansas City-St. Joseph wrote in a statement. "It is understandable that many would be driven by faith and devotion to see the mortal remains of Sister Wilhelmina given the remarkable condition of her body, but visitors should not touch or venerate her body, or treat them as relics."
The nuns at Benedictines of Mary, Queen of Apostles said that Lancaster has not yet reached the minimum requirement of five years since her death for the sainthood process to start.
"While we can attest to Sister's personal sanctity, we know that incorruptibility is not among the official signs taken by the Church as a miracle for sainthood, and that all things must be subjected to further scrutiny, especially by the competent authorities in the medical field," they wrote. "The life itself and favors received must be established as proof of holiness."
While many see the lack of decay as a sign of holiness, Rebecca George, an anthropology instructor at Western Carolina University in North Carolina, said the lack of decomposition observed is typical.
"When there is decreased oxygen flow, such as in a coffin, and in a cooler climate - such as the clay the coffin was in - could absolutely slow decomposition down," she said in an email. "The public rarely sees a human body at this stage of decomposition, so this is likely contributing to the interest we are seeing. If the remains were buried without clothing or not in a coffin in this type of soil, I would have expected them to be skeletal, but the type of preservation observed is typical given the coffin and clothing protecting the remains."
Aliza Chasan
Aliza Chasan is a digital producer at 60 Minutes and CBS News.
Thanks for reading CBS NEWS.
Create your free account or log in
for more features.