A new bill in North Carolina would make it illegal for medical professionals to perform any gender-affirming medical treatments on minors.
The bill was introduced on Wednesday in the North Carolina House of Representatives by Republican George Cleveland and would ban hormone treatments and gender-affirming surgeries for people younger than 18.
Doctors who surgically remove any "nondiseased" or otherwise healthy body part or tissue could face a $1,000 fine and potently lose their license.
Children born with ambiguous sex characteristics are excluded from the bill.
ARKANSAS BILL WOULD REQUIRE TRANSGENDER STUDENTS USE RESTROOM ACCORDING TO BIOLOGICAL SEX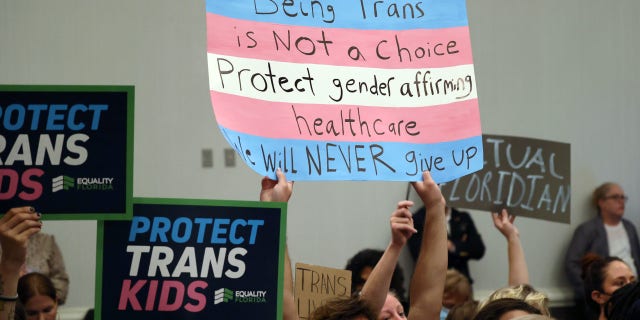 People hold signs during a joint board meeting of the Florida Board of Medicine and the Florida Board of Osteopathic Medicine gather to establish new guidelines limiting gender-affirming care in Florida, on Nov. 4, 2022. (Ricardo Ramirez Buxeda/Orlando Sentinel/Tribune News Service via Getty Images)
Similar legislation has been proposed in other states, with the Utah legislature passing a bill in January that would ban minors from receiving gender-affirming care.
CLICK HERE TO GET THE FOX NEWS APP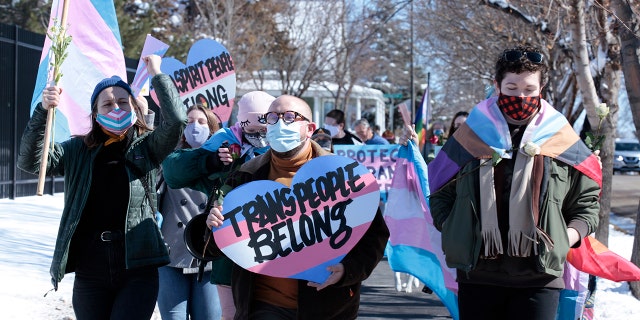 Advocates for transgender people march from the South Dakota governor's mansion to the Capitol in Pierre, South Dakota, on March 11, 2021. (AP Photo/Stephen Groves, File)
The bill has yet to be signed by Utah's Republican Governor Spencer Cox, who hasn't taken a public position on the bill.
The Associated Press contributed to this report.p
Adam Sabes is a writer for Fox News Digital. Story tips can be sent to [email protected] and on Twitter @asabes10.