CBS Essentials is created independently of the CBS News editorial staff. We may receive commissions from some links to products on this page. Promotions are subject to availability and retailer terms.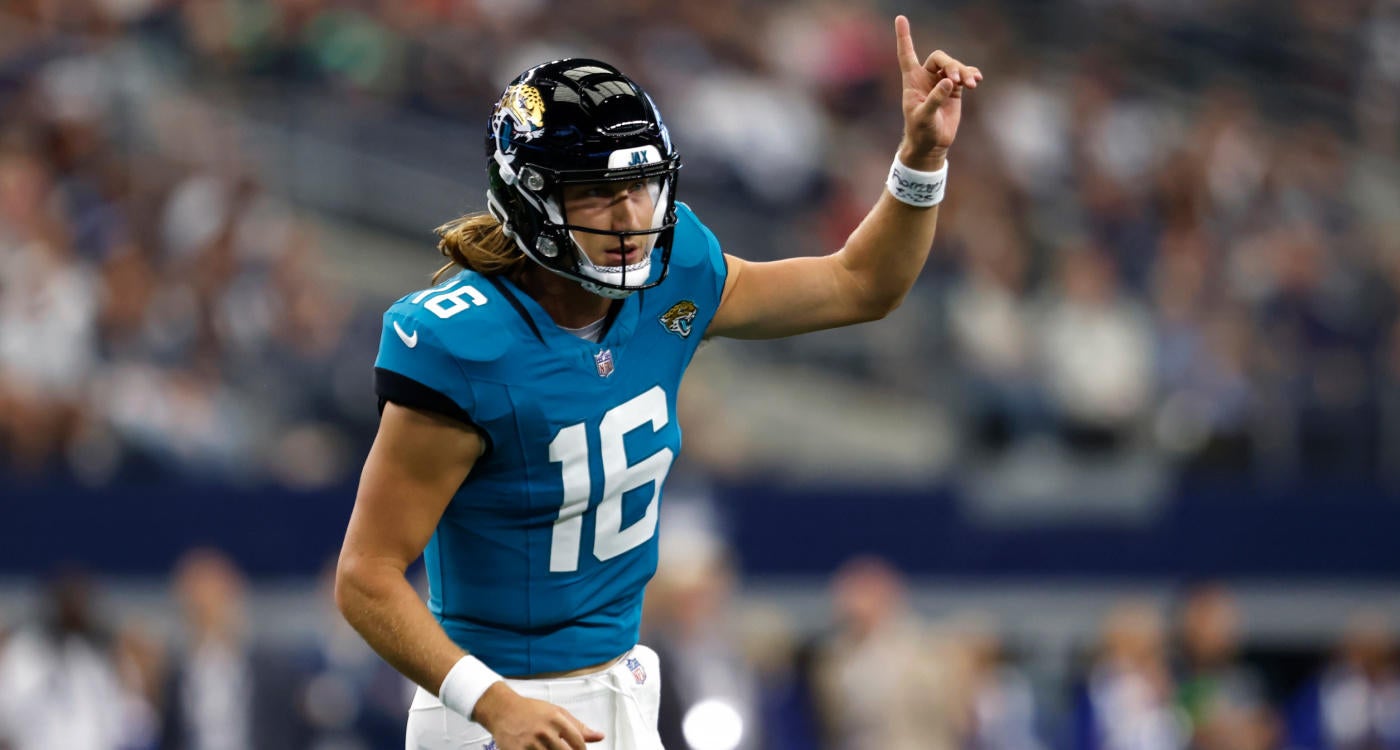 Trevor Lawrence #16 of the Jacksonville Jaguars celebrates after throwing a touchdown against the Dallas Cowboys during the first half of a preseason game at AT&T Stadium on August 12, 2023 in Arlington, Texas.
Ron Jenkins/Getty Images
Indianapolis Colts fans have been patient through disappointing seasons and quarterback carousel that left fans' heads spinning. New Colts head coach Shane Steichen relied on the grace of the team's fans while he waited patiently through the preseason to officially name 21-year-old Anthony Richardson, the No. 4 overall draft pick of the 2023 NFL Draft, the team's starter.
WIth the starting job securely his, Richardson becomes the third-youngest opening day starter in NFL history, and the youngest in franchise history. Focusing on being "on point and being ready", the University of Florida alum is ready to usher in a new era in Indianapolis. And that era is all about winning.
But first, he'll have to get past Trevor Lawrence. Lawrence, the top overall pick of the 2021 draft, improved drastically over the later part of the 2022-2023 season. With two hungry young quarterbacks on the field, the Jaguars - Colts Week 1 matchup is not to be missed.
Keep reading for all the details on when and how to watch the Jacksonville Jaguars vs. Indianapolis Colts game.
Related: How to get a Bryce Young jersey
How to watch the Jaguars vs. Colts game
The Sunday game between Jacksonville Jaguars and Indianapolis Colts will be played Sunday, September 10 at 1:00 p.m. ET. It will be airing live on Fox, and streaming on the services listed below.
Fox is included in most cable TV packages. If you have don't have cable TV that includes NBC, ABC, Fox or ESPN, one of the most cost-effective ways to stream live NFL football this year is through a subscription to Sling TV. The streamer offers access to the NFL Network, local NBC, Fox and ABC affiliates (where available) and ESPN with its Orange + Blue Tier plan. Also worth noting: Sling TV comes with 50 hours of cloud-based DVR recording space included, perfect for recording all the season's top NFL matchups.
That plan normally costs $60 per month, but the streamer is currently offering a 50% off promotion for your first month, so you'll pay just $30. You can learn more by tapping the button below.
Top features of Sling TV Orange + Blue tier:
There are 46 channels to watch in total, including local NBC, Fox and ABC affiliates (where available).
You get access to most local NFL games and nationally broadcast games at the lowest price.
All subscription tiers include 50 hours of cloud-based DVR storage.
Sling TV has a new offering for the 2023 NFL Season called Sports Extra. This souped-up package is designed for NFL and college football super-fans, with access to NFL Redzone, ESPN, NFL, SEC, ACC, PAC 12, Big10 and Longhorn Networks.
There's a great deal on Sling TV Sports Extra going on right now: You can get five months of Sling TV Orange + Blue + Sports Extra for $274. That works out to just $55 per month, an even better price than subscribing to just the $60 per month Orange + Blue plan. It's the most cost-effective way to stream most NFL games this year.
You can learn more about Sling TV and Sports Extra by tapping the button below.
Watch the Jaguars vs. Colts game with
FuboTV
You can also catch the game on FuboTV. FuboTV is a sports-centric streaming service that offers access to almost every NFL game of the season. Packages include CBS, Fox, NBC, ESPN, NFL Network, NFL RedZone and more, so you'll be able to watch more than just today's games.
To watch the NFL without cable, start a seven-day free trial of Fubo. You can begin watching immediately on your TV, phone, tablet or computer. Fox, so you know, offers Sunday NFC games via "NFL on Fox"; while ESPN is the home of "Monday Night Football." ABC airs some "MNF" games, too.
In addition to NFL football, FuboTV offers MLB, NBA, NHL, MLS and international soccer games. FuboTV starts at $75 per month for the Pro tier (includes NFL Network); the $100 per month Ultimate tier includes NFL RedZone.
Top features of FuboTV:
The Pro tier includes 169 channels, including NFL Network; the Ultimate tier includes 289 channels, including NFL RedZone.
FuboTV includes all the channels you'll need to watch live sports, including CBS (not available through Sling TV).
All tiers come with 1,000 hours of DVR recording.
Watch the Jaguars vs. Colts game on
Hulu + Live TV
You can watch the NFL, including the NFL Network, with Hulu + Live TV. The bundle features access to 90 channels, including both Fox and FS1. Unlimited DVR storage is also included. Watch every game on every network with Hulu + Live TV, plus catch live NFL preseason games, exclusive live regular season games, popular studio shows (including NFL Total Access and the Emmy-nominated show Good Morning Football) and lots more.
Hulu + Live TV comes bundled with ESPN+ and Disney+ for $70 per month.
Watch NFL football live with a
digital HDTV antenna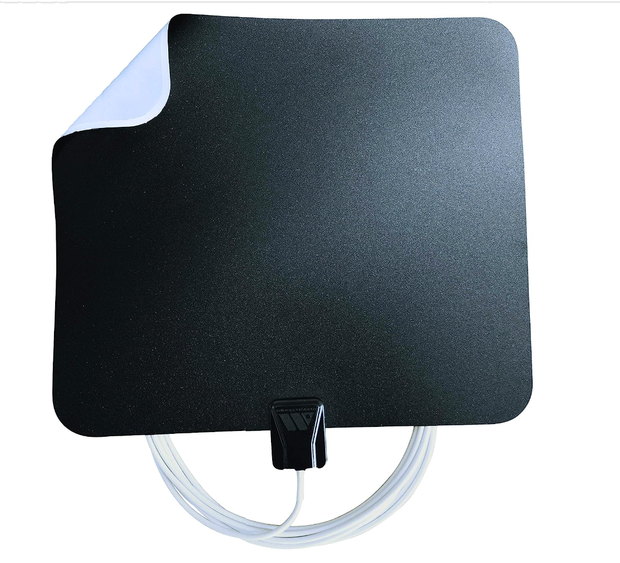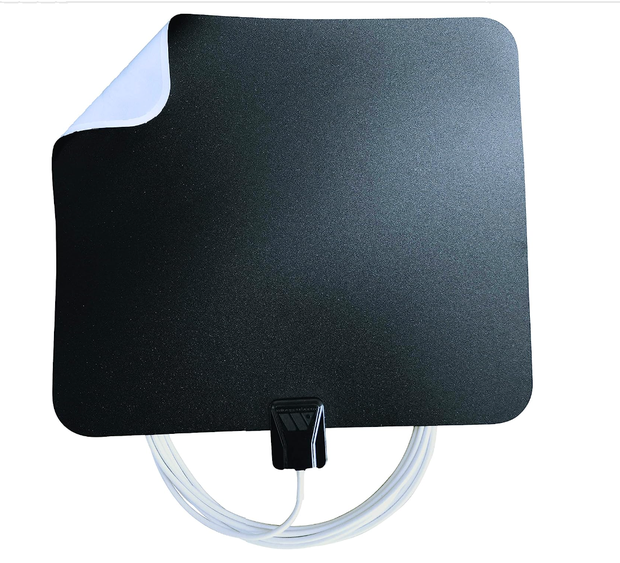 Amazon
If you're cutting the cord to your cable company, you're not alone; in fact, you are in luck. You can still watch the NFL on TV with an affordable indoor antenna, which pulls in local over-the-air HDYC channels such as CBS, NBC, ABC, Fox and PBS. Here's the kicker: There's no monthly charge.
Anyone living in partially blocked-off area (those near mountains or first-floor apartments), a digital TV antenna may not pick up a good signal – or any signal at all. But for many homes, a digital TV antenna provides a seriously inexpensive way to watch college football without paying a staggering monthly fee. Indoor TV antennas can also provide some much-needed TV backup if a storm knocks out your cable (or your cable company gets in a squabble with a network).
This amplified HDTV antenna, claims to have a 50-mile range and offers 36 channels. It's rated 4.0 stars by Amazon reviewers.
Said one Amazon customer, "When the price of this antenna dropped to $50, it was competitively priced with what you would find on the shelves at your local Radio Shack. If you're considering this product, you're probably already questioning your cable television bill and are looking around for a cheap way to get the Big 3 plus Fox and PBS. This antenna delivered that for us right out of the box."
Watch the Jaguars vs. Colts game on your phone with
NFL+
If you want to catch the game on your phone -- and all the amazing football ahead this season -- check out NFL+. The premium streaming service, starting at $40 per year (or $7 per month), offers access to NFL Network. And yes, that includes games being broadcast out-of-market. To boost your NFL experience even further, you can upgrade to NFL+ Premium with NFL RedZone and watch up to eight NFL games simultaneously. A seven-day, free trial is available.
Top features of NFL+:
You get access to all NFL preseason games, including those that are out of market.
NFL+ lets you watch stream local and primetime regular season games on your phone or tablet, but not your TV.
Includes the NFL Network (and NFL RedZone with NFL+ Premium), so it's a good option for those who are looking to stream football on the go.
2023 NFL Season: Week 1

The 2023 NFL Season Week 1 schedule is below. All times listed ET. (*) indicates that game is not available in all markets.
Thursday, Sept. 7
Sunday, Sept. 10
Monday, Sept. 11
Storylines we're following in the 2023 NFL season
Important dates to remember:
The 2023 NFL regular season runs today through Jan. 7, 2024.
Playoffs are scheduled for January 13 through Jan. 28, 2004.
Super Bowl LVIII is scheduled for Feb. 11, 2024 in Las Vegas
Sean Payton in Denver. After "retiring" from coaching (or maybe he was just retiring from coaching the New Orleans Saints), Sean Payton is back, now as the Denver Broncos head coach. Former Seattle Seahawks QB Russell Wilson's first season in Denver was nothing short of disaster, and the front office brought in the cavalry in Payton. Known as a quarterback whisperer, Payton is a massive upgrade from former head coach Nathaniel Hackett, who never seemed entirely prepared to oversee the team or his superstar quarterback. If anyone can "fix" Russ, it's Payton. But if no one can fix Russ, his time in Denver is likely going to be shorter than expected.
Lamar Jackson really is a quarterback: Despite leading the league in passing touchdowns during his 2019 MVP campaign, Baltimore Ravens QB Lamar Jackson has been dogged by critics of his run-heavy game. Sure, Jackson is quick on his feet -- and quick to use his feet -- but this season the Ravens offense will likely look a lot different than it has since Lamar was drafted in 2018. With new offensive coordinator Todd Monken in town and new receivers in Odell Beckham Jr., Nelson Agholor and rookie first-round pick Zay Flowers, fans can expect a new-look offense. Lamar won't give up his out-of-the-pocket game, but he'll have more weapons on the receiving end, which could finally take the Ravens further into the postseason.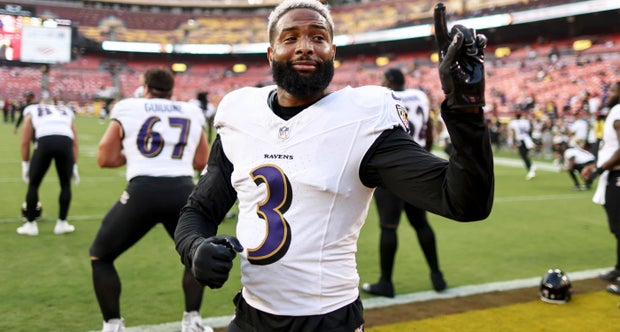 Getty Images
Aaron Rodgers in a new shade of green: Four-time NFL MVP Aaron Rodgers takes over from former Tampa Bay Buccaneers QB Tom Brady as the oldest active player in the league. All eyes will be on the 39-year-old Hard Knocks star, who traded in his Green Bay Packers uniform for a Jets green uniform after 18 seasons in Green Bay.
A-Rod is already making his mark in New York mentoring younger players like Jets CB Sauce Gardner, whom Rodgers calls a "future Hall of Famer." The Jets haven't won the Super Bowl since 1969 and haven't made the playoffs since 2010. Rodgers made the playoffs a total of nine times with the Packers. The Jets have $112 million invested in Rodgers adding a tenth trip to the postseason to his resume.
Other storylines to follow this NFL season: The LA Rams were victorious in Super Bowl LVI, but followed that up with a season filled with injury. Matthew Stafford's back and (supposedly) healthy, and Copper Kupp is (almost) ready to play. As long as McVay keeps Aaron Donald healthy, the Rams could run it back.
Chicago Bears QB Justin Fields showed major improvement in 2022, though his real improvements came in his running game. Offensive coordinator Luke Getsy traded big to get Fields some more talent on offense, which should bode well for Fields' continued improvement.
Related content on CBS Essentials

In:

NFL

Indianapolis Colts

Jacksonville Jaguars
Thanks for reading CBS NEWS.
Create your free account or log in
for more features.