Morgan Wallen enlisted former football stars Peyton and Eli Manning to help him announce the extension of his One Night At A Time tour.
The country singer shared a video to his Instagram, which begins with Peyton Manning sporting a mullet and hat like Wallen, singing a somewhat incoherent version of Wallen's hit song "Last Night."
Peyton then turns to face the camera and answers a FaceTime from the country star.
"What's going on Peyton? How's the announcement video going?" Wallen asks the two-time NFL Super Bowl champion.
MORGAN WALLEN RETURNS TO TOUR AFTER VOCAL CORD INJURY AND SON'S SCARY ER VISIT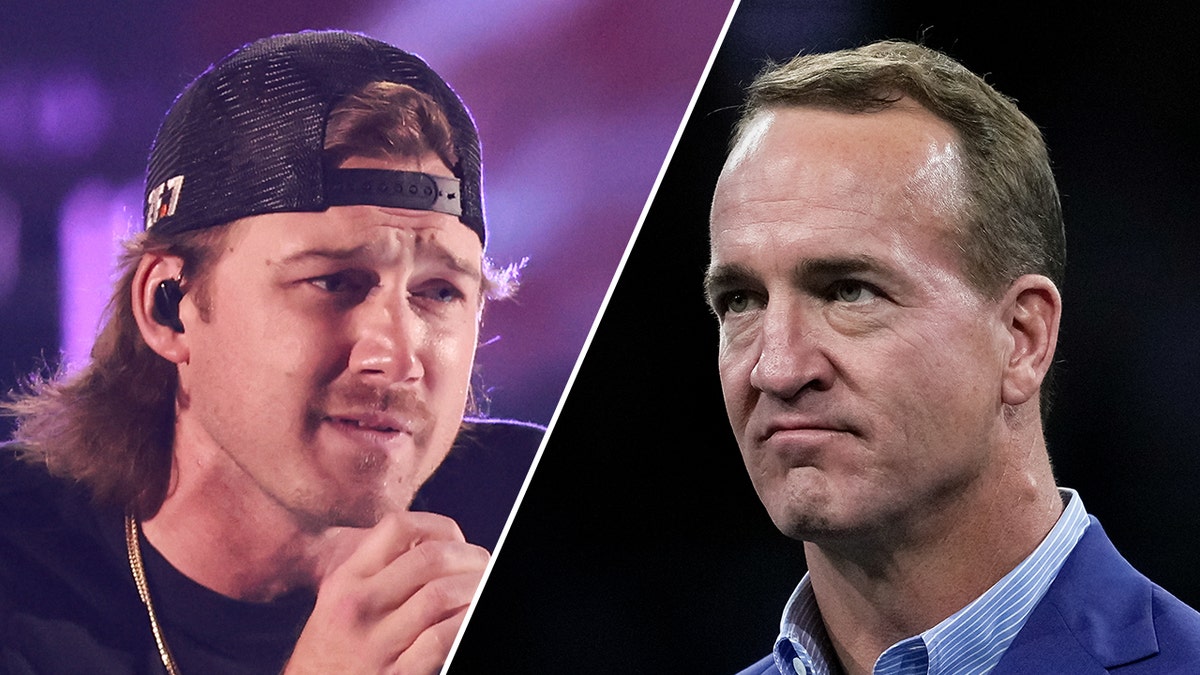 Morgan Wallen and Peyton Manning engaged in a little trash talk in a funny video promoting the country singer's extended tour. (Toni Anne Barson/Dylan Buell/Getty Images)
"It's going great. Just started recording actually, and I feel good about it," Peyton, 47, tells the superstar, microphone in hand.
Wallen is quick to remind Peyton that he emailed him with specific instructions about the announcement."
No dressing up, no singing and do not overdo it with the bad jokes," Wallen reminded him.
"Avoid the bad jokes, kind of like that bad hairdo of yours," Peyton quips, referencing the singer's shorter hair, which sent fans into a tizzy earlier this summer.
APP USERS CLICK HERE TO VIEW INSTAGRAM
LIKE WHAT YOU'RE READING? CLICK HERE FOR MORE ENTERTAINMENT NEWS
Peyton then suggested perhaps the wrong Manning brother had been chosen for the job.
"If you wanted someone who doesn't know how to look cool and can't sing or tell jokes, you should've called Eli."
"Eli! That's a great idea," Wallen says with a smile, before hanging up on the former quarterback.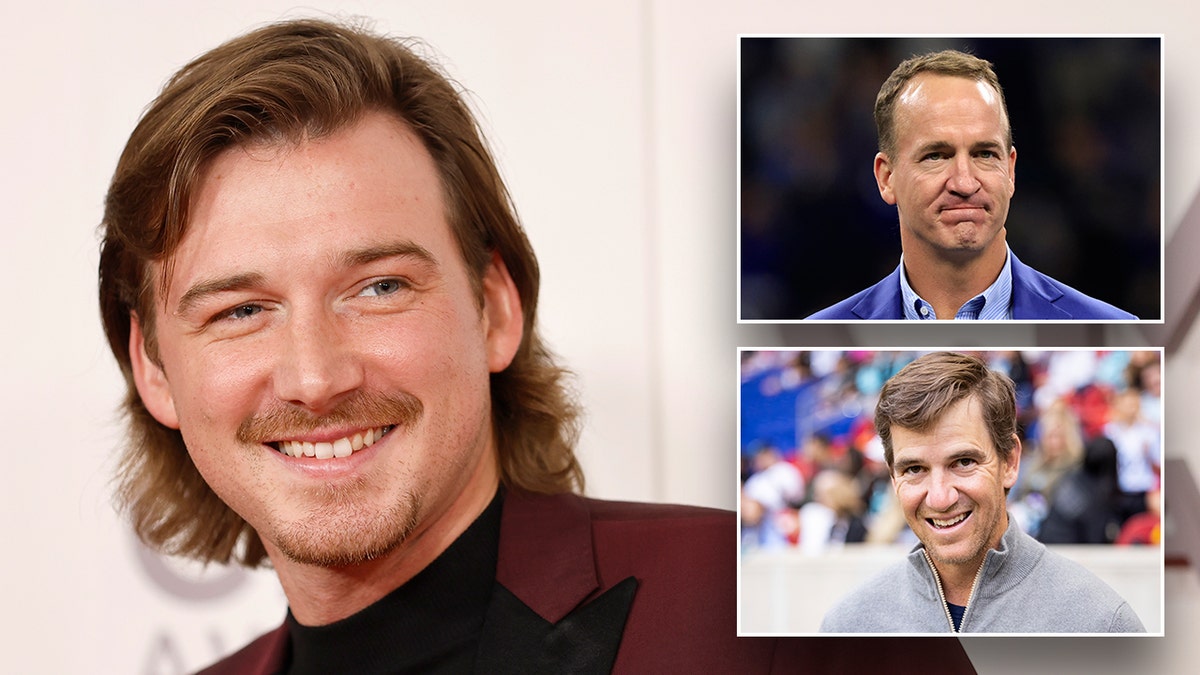 Morgan Wallen's video announcing more tour dates featured both Peyton and Eli Manning. (Jason Kempin/Justin Casterline/)
CLICK HERE TO SIGN UP FOR THE ENTERTAINMENT NEWSLETTER
The hilarious video then cuts to the former New York Giants star, who says, "Hey Morgan Wallen fans. I'm Eli Manning, and I'm pleased to announce One Night At A Time: 2024. Coming to a city near you.'"
Wallen added another 10 stops to his world tour. A press release revealed a rotating lineup of guests, including Bailey Zimmerman, Jelly Roll, Jon Pardi, Lainey Wilson, Nate Smith, Bryan Martin, Lauren Watkins and Ella Langley will join for support.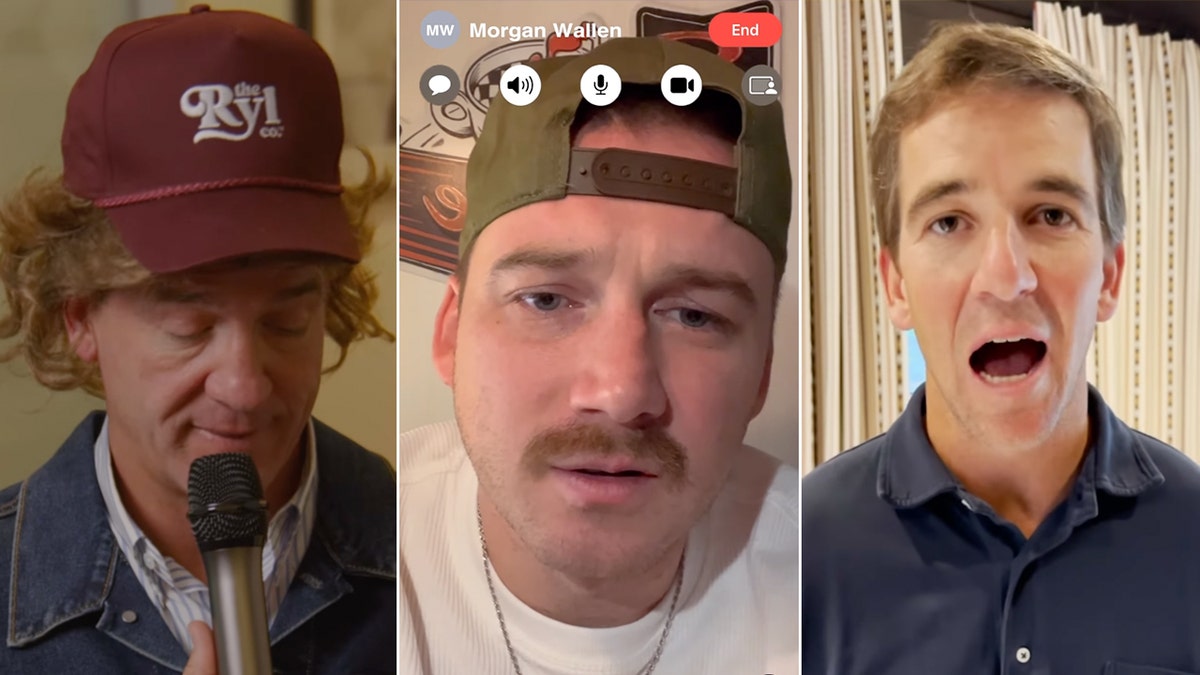 Morgan Wallen, center, is pictured FaceTiming Peyton Manning, left, before getting Eli Manning, right, to help announce his extended tour. (Morgan Wallen Instagram)
CLICK HERE TO GET THE FOX NEWS APP
Wallen, 30, announced May 9 he was going on recommended vocal rest for six weeks after receiving "bad news" from his doctors. He resumed his tour in June.
The funny video ends with a flashback to Peyton, who is desperately trying to reach Wallen.
"Morgan, looks like I got your voicemail again, pal," he says. "Uh, guess I'm really 'Chasin' you.' Get it? Like your song? All right. Anyway, call me when you get this. It's Peyton. Peyton Manning."
Representatives for the Manning brothers and Wallen did not immediately respond to Fox News Digital's request for comment.