First on Fox: West Virginia Democrat Sen. Joe Manchin's campaign spent more than $20,000 on catering services at his yacht club during the latter portion of 2022.
On two separate occasions last year – in November and December – Manchin paid TPK Experience for catering services, according to records filed with the Federal Election Commission (FEC).
The filings show TPK Experience's address as the same location of the Capital Yacht Club, which is where Manchin docks his houseboat and has been badgered by climate protesters in the past.
On Nov. 30, 2022, Manchin's FEC records show that his campaign paid TPK Experience a total of $15,353.89. A second payment from Manchin's campaign was also made to TPK Experience on Dec. 14, 2022, totaling $5,117.96.
JOE MANCHIN'S GROWING GOP CHALLENGER FIELD MAY SPELL TROUBLE FOR HIS RE-ELECTION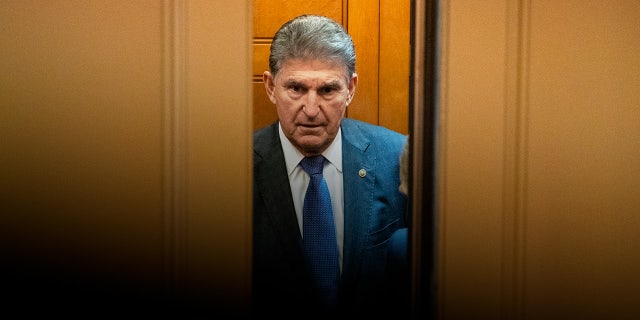 Sen. Joe Manchin at the U.S. Capitol on Dec. 7, 2022. (Sarah Silbiger for The Washington Post via Getty Images)
TPK Experience is a company owned and operated by "certified sommelier" Troy Knapp, according to the company's website.
Knapp's most prominent catering offering is known as CURATED catering by TPK, which offers "wine and cuisine experiences" for both "land and sea."
One offering from Knapp under CURATED catering is Sip and Sail D.C., a luxury cruise experience on a 47-foot sailing yacht known as "Cru Classé" that features four-course meals and curated wine selections. According to Sip and Sail's website, the yacht package includes "intimate experience on the waters surrounding Washington, D.C., all the way into the Chesapeake."
Prices for the Sip and Sail D.C. experience, according to the website, start at $400 per guest with a minimum requirement of three guests and a maximum of six guests. Reservations are open to the public via a booking form on Tock, a reservations service.
MANCHIN, CRUZ INTRODUCE BIPARTISAN BILL BARRING BIDEN ADMIN FROM SELLING US OIL RESERVES TO CHINA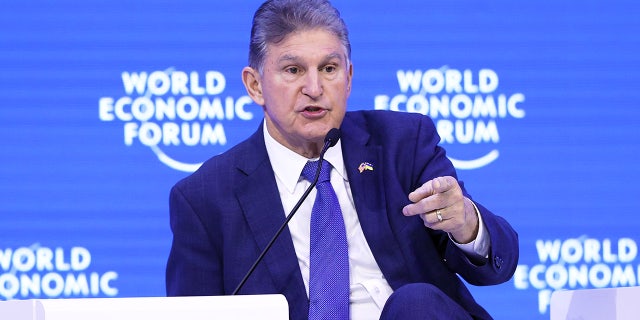 Sen. Joe Manchin speaks at the World Economic Forum in Davos, Switzerland, on Jan. 19, 2023. (Dursun Aydemir/Anadolu Agency via Getty Images)
According to the reservation form, some of the experience's fine dining options include scallop crudo with cherry blossom shoyu, ginger and jalapeno, as well as half shell oysters, crab legs, and chilled shrimp.
While it is unclear whether Manchin received access to the vessel or simply utilized the company for catering services at a private event, a listing for the Sip and Sail DC offering on the District Wharf's website stated the boat experience ended for the 2022 season on Oct. 15 and is slated to re-open on March 15.
Between the two expenses from Manchin's campaign last year, an Instagram post shared by the company from "@wineandcru" on Dec. 11 revealed that Cru Classé had its "winter jacket on and [was] ready to hibernate for a few months."
Like Manchin, Knapp is also a member of the Capital Yacht Club, according to a March 2022 article from Wharf Life DC that promotes the Sip and Sail D.C. experience.
The Capital Yacht Club is also where Manchin docks his 65-foot boat, which is named Almost Heaven and has been described as the Washington Post as a mix "between a trawler and a yacht, big and boxy."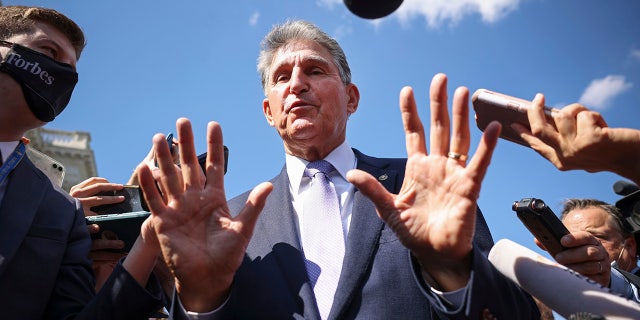 Sen. Joe Manchin speaks to reporters outside the Capitol on Sept. 30, 2021. (Kevin Dietsch/Getty Images)
Fox News Digital reached out to the Manchin campaign and TPK Experience to inquire about the payments, but did not receive an immediate response.
CLICK HERE TO GET THE FOX NEWS APP
Should the payments have gone toward catering costs offered solely through Knapp's CURATED Catering service, this wouldn't be the first time Manchin has spent big on fine dining during his tenure in the Senate.
Utilizing FEC filings, a Daily Mail report from earlier this year found that between his PAC and his campaign, Manchin spent more than $1.13 million on dining and catering services since taking office in 2011.