Israeli airstrikes targeted several locations in the Gaza Strip in response to ongoing Palestinian protests along the Gaza-Israel border.
The demonstrations have escalated into violent clashes between Palestinian protesters and Israeli security forces.
The protests involve Palestinians engaging in various forms of unrest, including stone-throwing, use of explosive devices, burning tires, and, according to the Israeli military, gunfire directed at Israeli soldiers.
Israeli airstrikes hit several targets in the Gaza Strip on Tuesday, the country's military said, after Palestinian protesters flocked for the 12th straight day to the enclave's frontier with Israel — demonstrations that have devolved into violent clashes with Israeli security forces.
There were no reports of casualties in Gaza from the Israeli airstrikes.
The Israeli army said that it used a drone, helicopter and tank to strike multiple posts in northern and southern Gaza belonging to the strip's militant Hamas rulers in response to what it described as "violent riots" at the separation fence between Gaza and Israel. The protests involve Palestinians throwing stones and explosive devices, burning tires and, according to the Israeli military, shooting at Israeli soldiers.
Palestinian health officials reported that Israeli forces shot and wounded 11 protesters during Tuesday's rally.
Hamas, the Islamic militant group that seized control of Gaza in 2007, has said that young Palestinians have organized the protests in response to surging violence in the West Bank and alleged provocations in Jerusalem. In recent days Palestinians have also floated incendiary kites and balloons across the border into southern Israel, setting fire to farmland and unnerving Israeli civilian communities close to Gaza.
FIGHT OVER JERUSALEM'S TEMPLE MOUNT HOLY SITE: WHY IS IT SO IMPORTANT TO JEWS, MUSLIMS AND CHRISTIANS?
The unrest first erupted earlier this month, shortly after Hamas' Finance Ministry announced it was slashing the salaries of civil servants by more than half, deepening a financial crisis in the enclave that has staggered under an Israeli-Egyptian blockade for the past 16 years.
Under arrangements stemming from past cease-fire understandings with Israel, the gas-rich emirate of Qatar pays the salaries of civil servants in the Gaza Strip, provides direct cash transfers to poor families and offers other kinds of humanitarian aid. Qatar's Foreign Ministry said Saturday that it had begun the distribution of $100 cash transfers to some 100,000 needy families in the impoverished territory.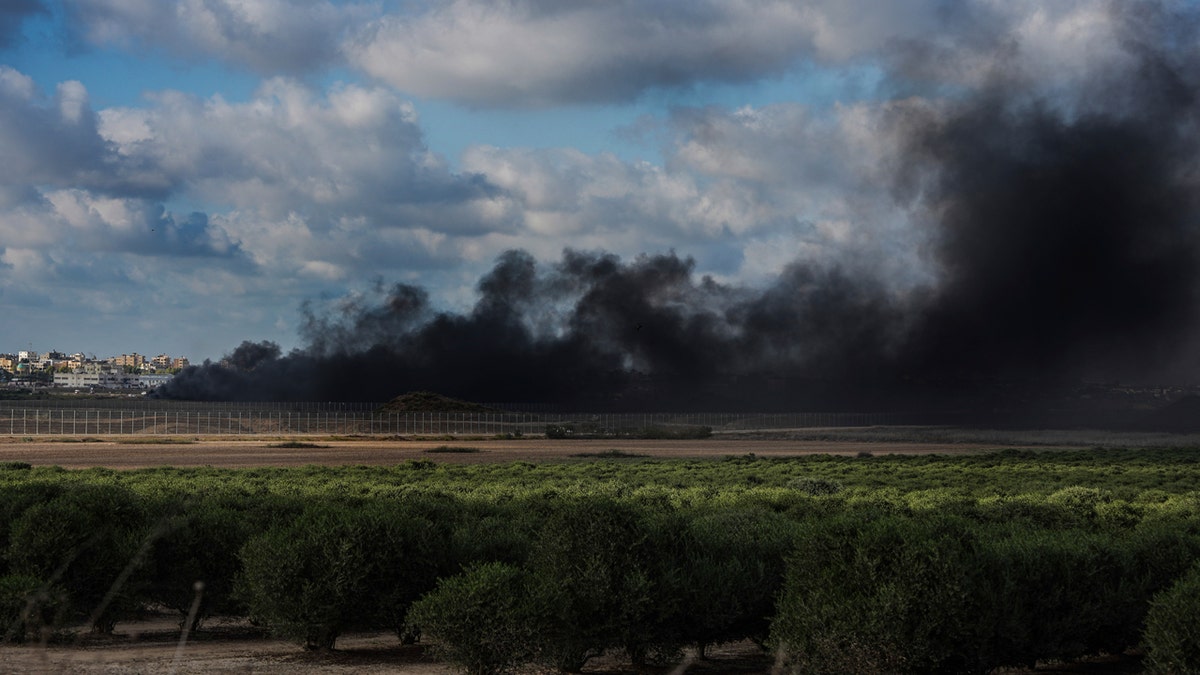 Smoke rises from tires set ablaze by Palestinian demonstrators during a protest along the frontier between Gaza and Israel, as seen from the Israeli side of the fence, on Sept. 23, 2023. (AP Photo/Tsafrir Abayov)
The sudden violence at the separation fence has stoked fears of a wider escalation between Israel and Hamas, which have fought four wars and engaged in numerous smaller battles since Hamas took over the territory.
But experts said that the violent protests — which have persisted with Hamas' tacit consent for nearly two weeks now — have more to do with Hamas' efforts to manage the territory and halt its spiraling economic crisis than draw Israel into a new round of conflict.
"It's a tactical way of generating attention about their distress," Ibrahim Dalalsha, director of the Horizon Center, a Palestinian research group based in the West Bank, said of Hamas. "It's not an escalation but 'warming up' to put pressure on relevant parties that can come up with money to give to the Hamas government."
CLICK HERE TO GET THE FOX NEWS APP
Israel, he added, also seeks to contain the exchanges with its precise strikes on apparently abandoned militant outposts — so far avoiding a mishap that could spiral into a conflict that neither side wants.