House Speaker Kevin McCarthy is asking for a Gang of Eight briefing after government officials said that a suspected Chinese spy balloon is hovering over the continental United States.
"China's brazen disregard for U.S. sovereignty is a destabilizing action that must be addressed, and President Biden cannot be silent. I am requesting a Gang of Eight briefing," McCarthy said.
McCarthy's tweet came just hours after Pentagon spokesperson Brig. Gen. Pat Ryder said during a briefing on Thursday that the government detected a high-altitude surveillance balloon over the continental U.S.
"The United States government has detected and is tracking a high-altitude surveillance balloon that is over the continental United States right now. The U.S. government to include NORAD, continues to track and monitor it closely. The balloon is currently traveling at an altitude well above commercial air traffic and does not present a military or physical threat to people on the ground. Instances of this kind of balloon activity have been observed previously over the past several years. Once the balloon was detected, the U.S. government acted immediately to protect against the collection of sensitive information," Ryder said.
US GOVERNMENT MONITORING SUSPECTED CHINESE SPY BALLOON OVER NORTHERN STATES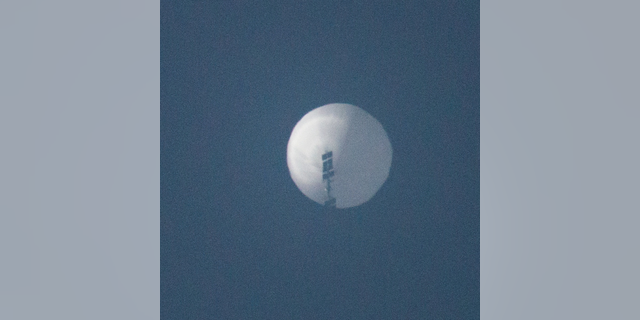 A balloon flies in the sky over Billings, Montana, U.S. February 1, 2023 in this picture obtained from social media. (Chase Doak/via Reuters)
A senior defense official said that the U.S. government is "confident" that the surveillance balloon belongs to the People's Republic of China.
The defense official said during the briefing that the balloon was over Montana, adding that officials were considering bringing the plane down with military assets, but decided against doing so because of the risks associated, adding that President Biden was briefed on the situation and asked for military options.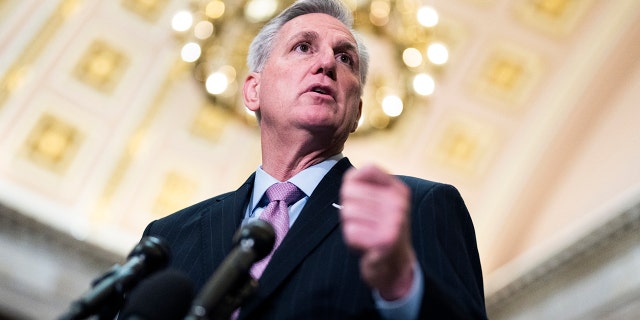 Speaker of the House Kevin McCarthy, R-Calif., conducts a news conference in the U.S. Capitols Statuary Hall on Thursday, January 12, 2023. (Tom Williams/CQ-Roll Call, Inc via Getty Images)
"You did see reports yesterday of a ground stop at Billings Airport and the mobilization of a number of assets, including F-22. The context for that was that we put some things on station in the event that a decision was made to bring this down while it was over Montana. So we wanted to make sure we were coordinating with civil authorities to empty out the airspace around that potential area. But even with those protective measures taken, it was the judgment of our military commanders that we didn't drive the risk down low enough. So we didn't take the shot," the official said.
US, PHILIPPINES ANNOUNCE NEW AGREEMENT TO RAMP UP MILITARY PRESENCE AMID CHINA-TAIWAN TENSIONS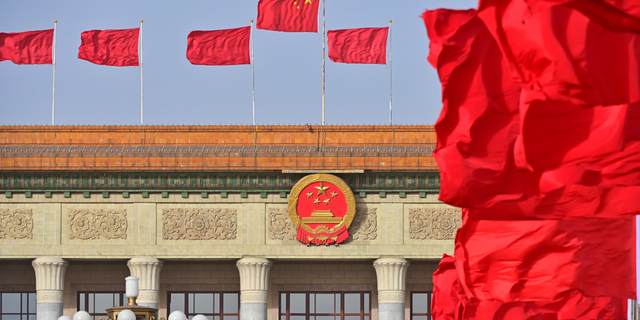 Red flags flutter in front of the Great Hall of the People before the annual two sessions on March 4, 2022 in Beijing, China. The fifth session of the 13th National Committee of the Chinese People's Political Consultative Conference (CPPCC) opens on March 4. (Photo by VCG/VCG via Getty Images)
A well-placed senior U.S. official told Fox News that the government is still considering a variety of options with how to deal with the Chinese spy balloon, saying that the options presented to Biden and his national security team included concerns that if the military did shoot down the balloon, there could be civilian casualties the ground.
The White House hasn't ruled out shooting the balloon down if it were deemed safe to do so, according to the source.
According to the source, there's more than just a balloon, and heavy equipment would come crashing to the ground if it were to be shot down, which could create a large debris field.
CLICK HERE TO GET THE FOX NEWS APP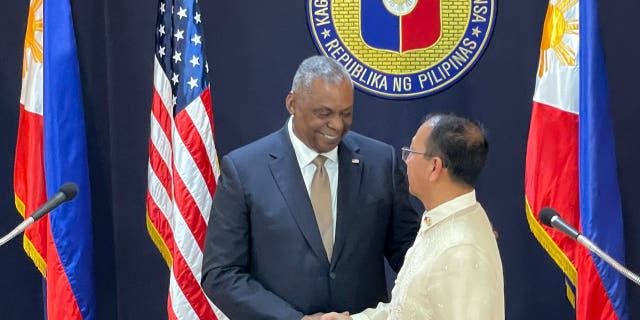 U.S. Defense Secretary Lloyd Austin, left, shakes hands with his Philippine counterpart, Carlito Galvez Jr. at a joint press conference in Camp Aguinaldo military headquarters in metro Manila, Philippines on Thursday, Feb. 2, 2023. (AP Photo/Joeal Calupitan,Pool)
Secretary of Defense Lloyd Austin held a meeting with senior Department of Defense leadership on Wednesday, and it was decided not to take military action due to "the risk to safety and security of people on the ground from the possible debris field," the official said. At the time, Austin was visiting Camp Navarro in the Philippines, which is around 2,000 miles from China.
The Chinese spy balloons discovery comes as the U.S. and Philippines reached an agreement to increase military presence on the islands amid escalating tensions between China and Taiwan.
Adam Sabes is a writer for Fox News Digital. Story tips can be sent to [email protected] and on Twitter @asabes10.