Kansas City Chiefs quarterback Patrick Mahomes is preparing to make the third Super Bowl appearance of his career next week.
During an interview with "First Things First," Mahomes reflected on Tom Brady's unprecedented career.
He also discussed what it was like to play the AFC title game with an ankle injury and how the Chiefs' offense was able to adjust throughout this season without star wide receiver Tyreek Hill.
CLICK HERE FOR MORE SPORTS COVERAGE ON FOXNEWS.COM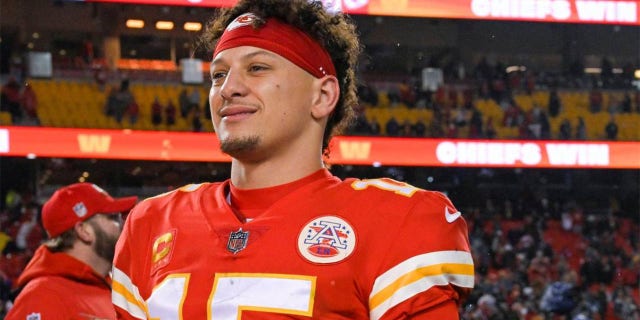 Quarterback Patrick Mahomes led the Chiefs to a 27-20 win over Jacksonville in the divisional round of the NFL playoffs at GEHA Field at Arrowhead Stadium in Kansas City, Mo. (Tammy Ljungblad/The Kansas City Star/Tribune News Service via Getty Images)
"I think it did in a sense. It just helped me evolve as a quarterback in general," Mahomes admitted when asked if Hill's departure helped his development. "I've been a guy that I've wanted to throw a deep shot every single time. Coach Reid always joked with me about it. He would call routes to throw underneath routes and then, on the other side, they would put a deep shot just in case."
PATRICK MAHOMES' CLASSY MESSAGE TO JOE BURROW AFTER CHIEFS' AFC CHAMPIONSHIP WIN REVEALED
He also talked about Tom Brady's decision to retire.
"He has a little bit of that Jordan in him. That will to win and that will to be the best. I think that's what makes Tom so great. Even though he might not have the best arm or the best mobility, he's still really good at both of those things."
Mahomes added that he aspires to be on Brady's level one day.
"He is the GOAT, and someone that I want to try to chase, but I know it's a long ways away for me, and I just have to continue to win football games."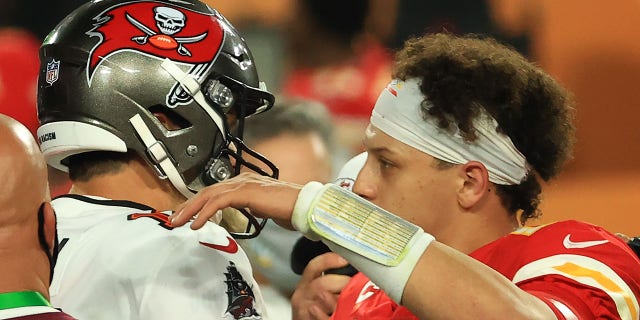 Tom Brady of the Tampa Bay Buccaneers, left, and Patrick Mahomes of the Kansas City Chiefs speak after Super Bowl LV at Raymond James Stadium Feb. 7, 2021, in Tampa, Fla. The Buccaneers defeated the Chiefs 31-9. (Mike Ehrmann/Getty Images)
During Kansas City's 23-20 win over the Bengals in the AFC title game, Mahomes was hit late by a defender as he was running out of bounds.
Defensive tackle Joseph Ossai was flagged for unnecessary roughness. The 15-yard penalty set kicker Harrison Butker's 45-yard field goal in the game's final seconds.
An unnamed NFL coach later accused Mahomes of flopping in an effort to draw a flag.
"That is what the owners want, $40 million skill players flopping on the ground," an NFC defensive coach told The Athletic, "drawing fouls from chemistry teachers, medical device salesmen and the like."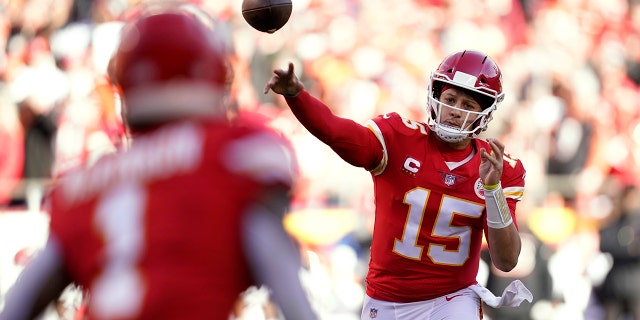 Kansas City Chiefs quarterback Patrick Mahomes (15) throws a pass to running back Jerick McKinnon (1) during the first half of the AFC championship game against the Cincinnati Bengals Jan. 30, 2022, in Kansas City, Mo. (AP Photo/Ed Zurga)
Mahomes shrugged off the accusation when he was asked about it Thursday.
"The most pain I had was stopping. So once he pushed me, it would have been hard to put my foot in the ground and try to stop. So I rolled through it," Mahomes said, via Jesse Newell of The Kansas City Star.
"You get over there with the heaters and the benches and people. That's where, a lot of times, people get hurt. I think that's the reason why there's a flag for getting pushed out of bounds like that late."
The high-ankle sprain the MVP favorite suffered during the divisional round of the playoffs likely will not be healed by next Sunday. But Mahomes was able to battle through the injury in the AFC championship game.
CLICK HERE TO GET THE FOX NEWS APP
He acknowledged that going into last week's game he thought he was going to be able to move around and get outside the pocket when it was necessary despite the injury.
"I thought I was going to be able to run straight and not making much cuts, especially this last game, just because of how the ankle was feeling. And I think you saw that through the game. There was a couple times I tried to run, and I didn't go anywhere," Mahomes told FOX Sports.
Chantz Martin is a sports writer for Fox News Digital.