CBS Essentials is created independently of the CBS News editorial staff. We may receive commissions from some links to products on this page. Promotions are subject to availability and retailer terms.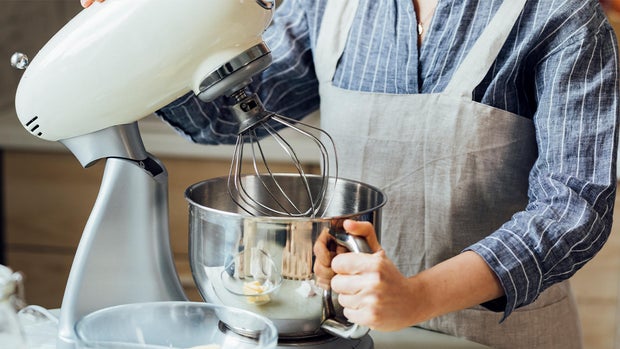 Getty Images
It's time for a new kitchen centerpiece. We've found the best stand mixers for 2023. These gorgeous machines can make excellent hosting and holiday gifts. Plus, they excel at whipping up indulgent treats like whipped cream and frosting, and they're versatile enough to craft various types of dough, from cookie and pizza dough to bread dough, thanks to their included attachments.
Related: How we choose our products
The CBS Essentials team consulted baking experts and tons of customer reviews to find the best stand mixers in 2023. We've found a kitchen appliance for every person and every budget. No matter if you plan on using your stand mixer to knead dough, make large batches of cookies or whisk egg whites, we've found the stand mixer for you. And yes, we love KitchenAid, but we've found plenty of kitchen appliance brands that make this coveted kitchen gadget too. Put your tired hand mixer away. It's time for an upgrade.
What you should know before you buy a stand mixer
Cooking technology expert Chef Andrew Forlines told CBS Essentials that readers should consider bowl size when buying a stand mixer, noting that the size you get should depend on what you're planning on making. Are you cranking out cupcakes, or do you make loaves of bread? "4.5-quart capacity up to 8 quarts is the standard range," Forlines says.
Forlines says readers should also consider motor power, if they wanted a lifted bowl or a titled-head stand mixer and whatever attachments are available for the stand mixer they're considering. If you're someone who hates cleaning up, it might matter to you whether or not stand mixer parts can go in the dishwasher.
Best stand mixers for baking newbies
No matter if you plan to splurge on a gorgeous kitchen centerpiece or are looking for a wallet-friendly stand mixer that gets the job done, CBS Essentials has found top-rated and expert-recommended stand mixers for you. These stand mixers are all rated four stars or higher and feature tons of positive reviews.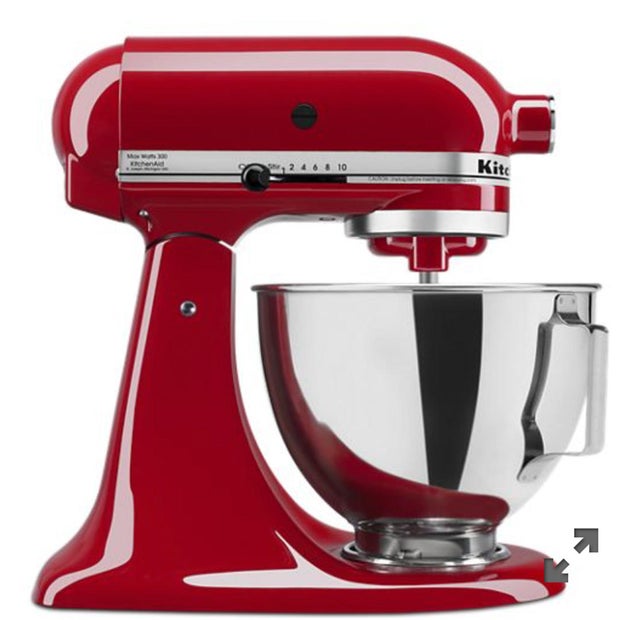 KitchenAid
Forlines recommends this KitchenAid model for beginners. "Smaller sizer and tilt head make this an approachable starting point," Forlines says "The tilting head makes adding ingredients into the bowl and changing attachments easier."
This device comes with a flat beater, a dough hook and a 6-wire whip. It is compatible with most KitchenAid stand mixer attachments.
It's $289 at Amazon, regularly $330.
Why we like this stand mixer: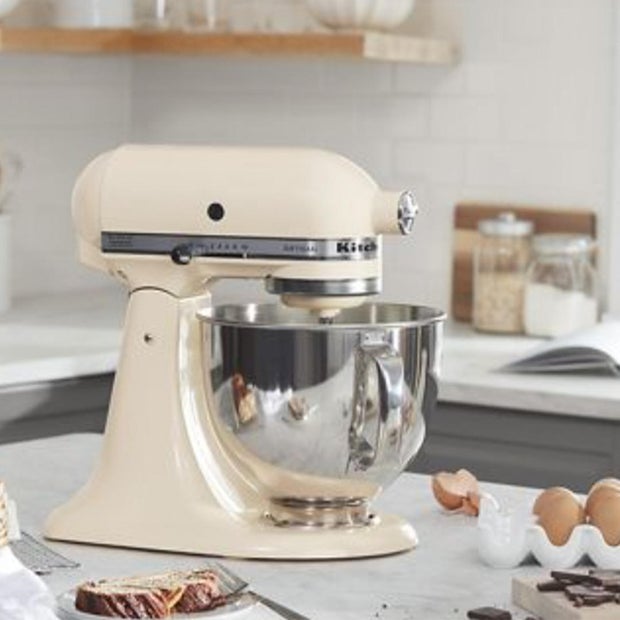 KitchenAid
The KitchenAid Artisan line is significantly less expensive than other KitchenAid stand mixer models, and this particular device is on sale at Amazon now. Right now you'll save $50 on the KitchenAid Artisan Series 5 stand mixer. It's $399 (regularly $449).
This stand mixer features 10 speeds. It comes with a five-quart, dishwasher-safe stainless-steel bowl, a coated flat beater, a coated dough hook, a six-wire whip and a pouring shield.
Choose from multiple colors.
Why we like the stand mixer:
It's a statement piece on your counter.
It's just as functional as it is fashionable.
The included stainless-steel bowl is dishwasher safe.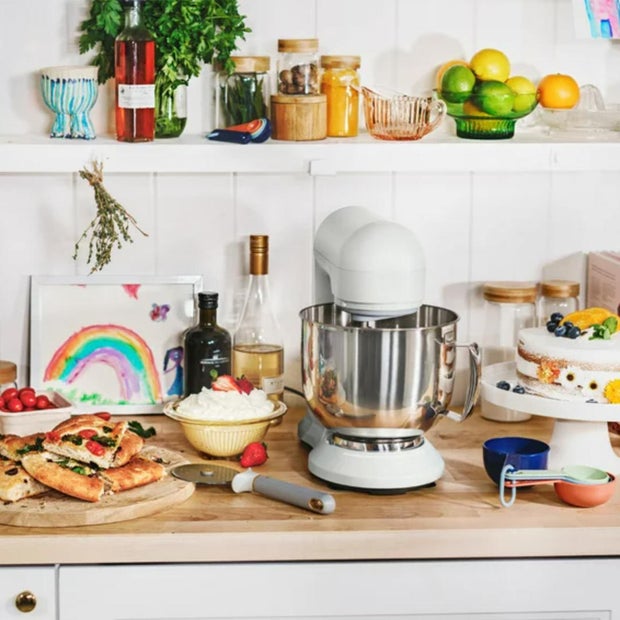 Beautiful via Walmart
How beautiful is this stand mixer from Drew Barrymore's home line? The 5.3-quart bowl can mix up to nine dozen cookies with its powerful 300-watt mixing system. It features 12 speeds and comes with a coated metal flat beater, a dough hook, a stainless-steel wire balloon whisk and a splash shield.
Another beautiful thing about this 4.4-star-rated stand mixer? The price. It's on sale for $99, regularly $130.
Choose from seven colors.
Why we like this stand mixer:
It's a great budget-friendly option.
It has a powerful motor.
It comes with a whole bunch of attachments.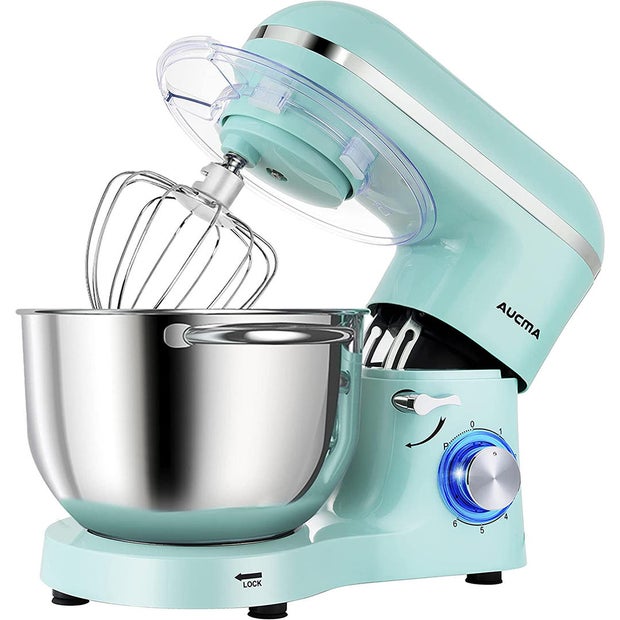 Aucuma via Amazon
This stand mixer can hold 6.5 quarts. It features six speeds and a pulse function. The Aucma stand mixer comes with three mixing accessories: whisk, dough hook, mixing beater.
This kitchen gadget is available in 10 colors.
"Move over KitchenAid," an Amazon customer who purchased the Aucma device says. "This mixer is awesome! I have made everything from whipped cream to bread dough and it works superbly. Motor is powerful and doesn't lag at all, even with the stiffest dough that I throw at it. I even have a recipe where I knead a dough on medium-high speed for 15 mins, and it does not lag nor does it overheat."
Be sure to add the $20 coupon for extra off this already on-sale item.
Why we like this stand mixer:
Best stand mixers for bread dough
Make bread, pizza dough and more in these top-rated stand mixers. These stand mixers are equipped with big bowls and powerful motors to make mixing dough a breeze.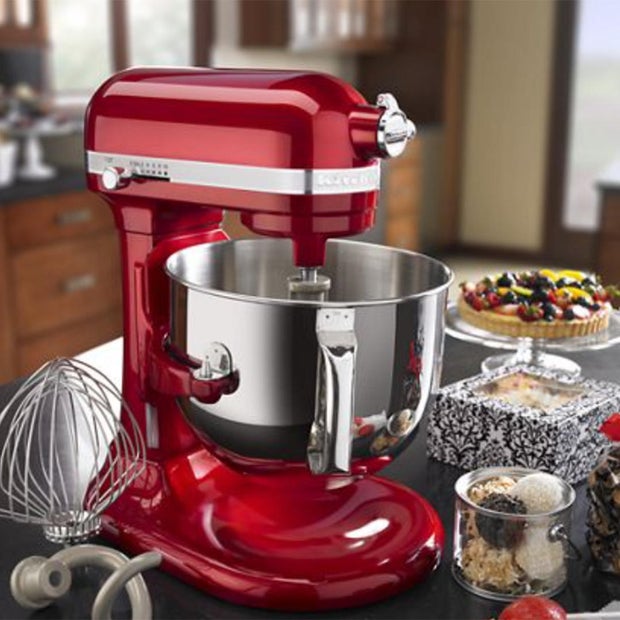 KitchenAid
"This is the model you count on for jobs big and small," CBS Essentials editorial director Leslie Gornstein says. "I am a bread baker. I like the occasional adventure with sourdough, pizza dough -- projects that sometimes need a bit more muscle. For that, I like the motor on this one much better."
This KitchenAid Pro Line stand mixer comes with a seven-quart, stainless-steel bowl, a coated flat beater, a coated metal PowerKnead dough hook, a stainless-steel 11-wire whip and a pouring shield.
It's on sale at Amazon now. Get it for $550, regularly $650.
Why we like this stand mixer:
It's a great option for people who like baking bread and pizza dough on the regular.
It was designed with a lever to raise and secure the mixing bowl into position.
The bowl attaches at three lock points for maximum stability.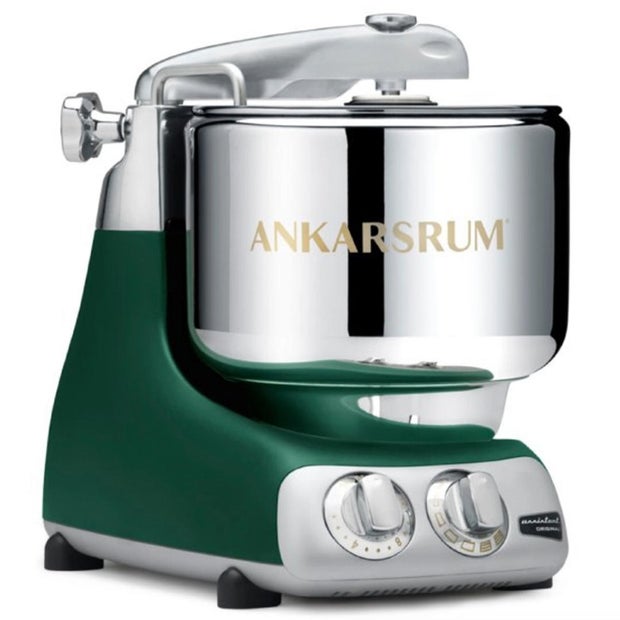 Ankarsrum via King Arthur
This Swedish-designed stand mixer was designed for bakers who plan to mix heavier doughs and yeasted breads. However, you can use separate attachments to make cookie doughs, cake batters and more.
This stand mixer includes a massive 7.4-quart stainless-steel bowl, a 3.7-quart double whisk bowl assembly with bowl, whisks, head gear, and shaft, a dough hook, a roller, a scraper, a spatula, a dust cover and accessory bowl, cookie beaters and a manual.
Choose from four colors.
"I am so glad I made this purchase. I love making bread. This machine mixes bread dough with ease--quiet, and machine does not jump or move. I use the scraper and roller, and do not think I will ever use the dough hook. Worth every penny," a reviewer on the Ankarsrum site says.
Why we like this stand mixer:
It includes a massive 7.4-quart stainless-steel bowl.
It comes with many attachments for all your baking needs.
It's an incredibly stylish option with multiple color options.
Related content from CBS Essentials

Lily Rose
Lily Rose is a senior writer for CBS Essentials and the site's expert in home appliances such as washers, dryers, refrigerators and ranges. When she's not writing about how you can upgrade your laundry room, she's writing about home and kitchen essentials that will transform your space. Her favorite appliance is her air fryer. She firmly believes that it can make the crispiest sweet potato fries.
Thanks for reading CBS NEWS.
Create your free account or log in
for more features.