Ahead of President Biden's visit to Northern Ireland next month, a scenic town on the Republic of Ireland's rugged Atlantic coast is preparing to roll out the red carpet for its most famous descendant. In Ballina, a small market town known for salmon fishing, the American leader is considered a native son — albeit one who's five generations removed.
Mr. Biden's great-great-great grandfather Edward Blewitt was born in Ballina. He emigrated to Scranton, Pennsylvania, to escape the Irish famine in the 1840s. Nearly 200 years later, Ballina residents are preparing a spectacular homecoming.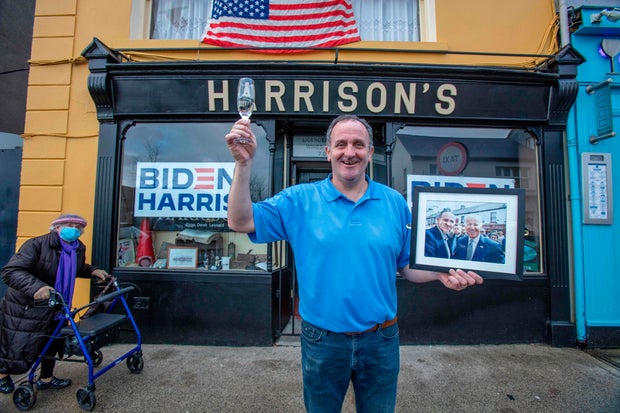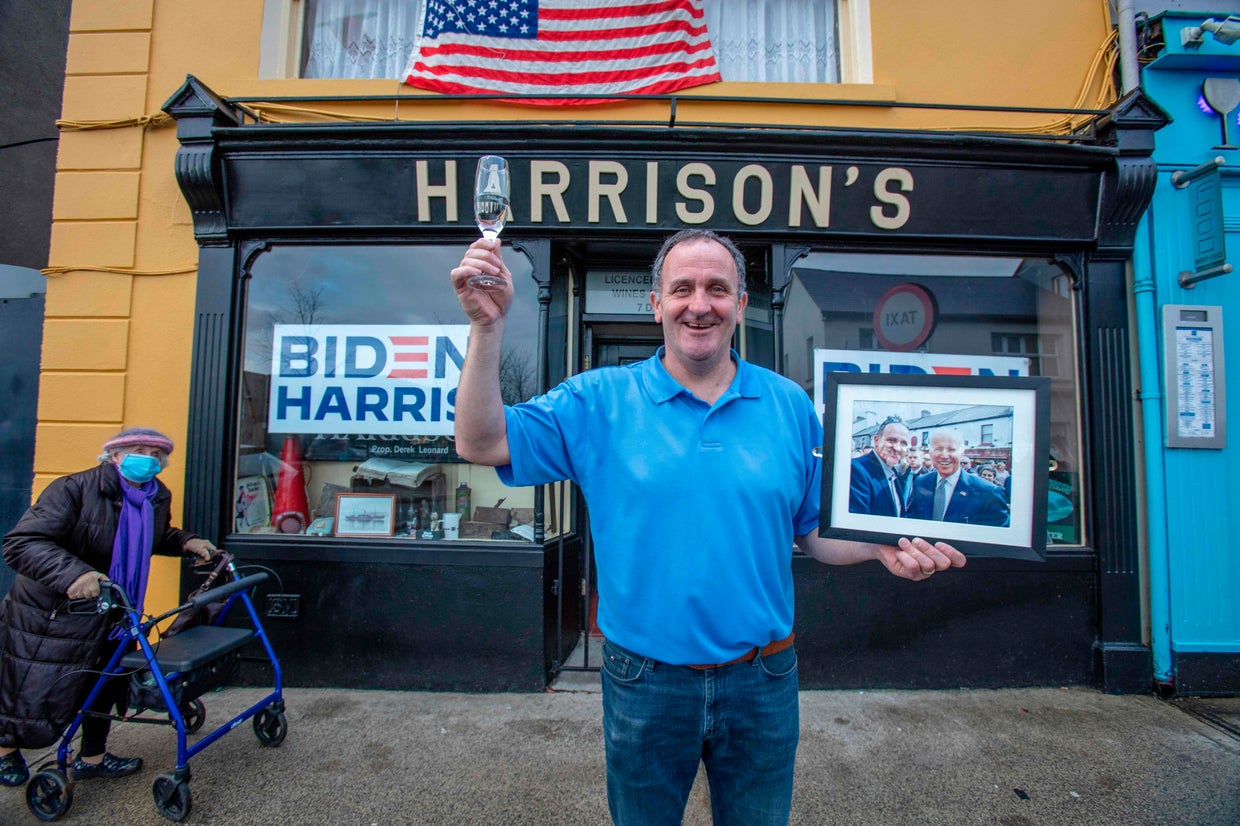 Pub landlord Derek Leonard poses with a glass and a photograph of himself with then-U.S. President-elect Joe Biden, in Mr. Biden's ancestral hometown of Ballina, County Mayo, Ireland, in a November 8, 2020 file photo.
PAUL FAITH/AFP/Getty
While the dates and details of Mr. Biden's trip across the Atlantic haven't been confirmed, it's widely expected that he'll visit his ancestor's birthplace south of the border after he comes to Northern Ireland in early April to mark the 25th anniversary of the Good Friday Agreement, which he said earlier this month that he would do.
The agreement, of which Mr. Biden is a vocal proponent, largely ended decades of sectarian violence on the island known as The Troubles, between republican forces determined to make Northern Ireland part of the republic, and unionists who want it to remain part of the U.K.
The peace established by the Good Friday Agreement has been strained in recent years, however, due largely to the U.K.'s "Brexit" divorce from the European Union, of which Ireland is a member.
According to recent reports in the British media, Mr. Biden is expected to visit Belfast, in Northern Ireland, on April 11, delivering a keynote speech the next day that will highlight business opportunities for American investors in the region following U.K. Prime Minister Rishi Sunak's recent post-Brexit trade deal with the EU.
On Tuesday, Britain's domestic intelligence agency MI5 raised the terror threat level in Northern Ireland from substantial to severe, indicating an attack in Northern Ireland was considered "highly likely." The move comes amid an increase in dissident republican activity, including a recent shooting attack on a high ranking police officer last month.
Security concerns aside, Joe Blewitt, one of Mr. Biden's distant cousins, has been among the Ballina residents looking forward to a potential visit by the U.S. leader. Blewitt was in Washington with Mr. Biden, along with Irish leader Leo Varadkar, for this year's St. Patrick's Day celebrations at the White House. He's met his high-profile relative on multiple occasions.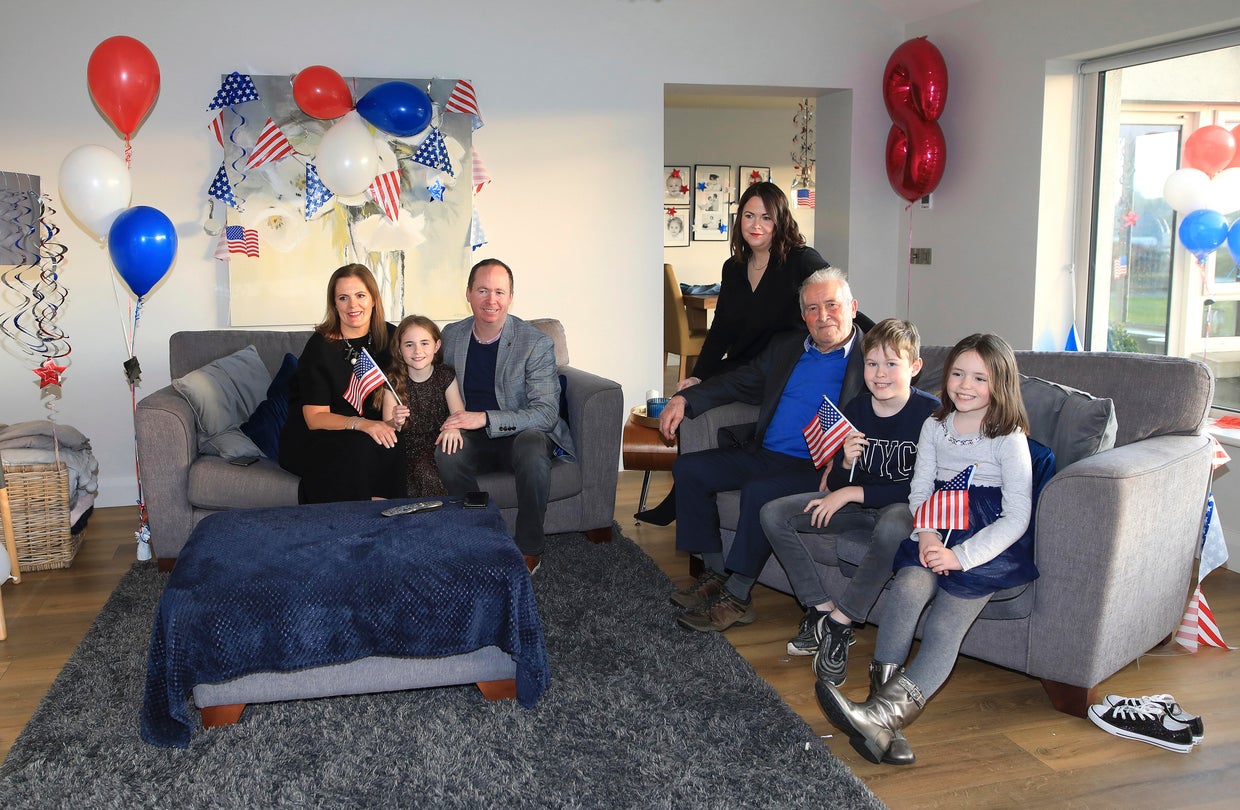 The Blewitt family, from left, Deirdre, Emily, Joe, Laurita, Brendan, Darragh and Lauren, watch the inauguration ceremony of their cousin Joe Biden on TV from their living room in Knockmore, near the town of Ballina, Ireland, in a Jan. 20, 2021 file photo.
Peter Morrison/AP
"He's [Biden] a really down to earth guy," Blewitt told CBS News. "My dad always knew we were related, but things really came to the surface when he was running for vice-president with Obama."
On a visit to Ballina in 2016, Mr. Biden met Blewitt and his sister Laurita, and the Blewitts had a private dinner with the then-vice president.
Jarlath Munnely, whose organization "Ballina 2023" extended Mr. Biden a formal invite to the town last year, said Ballina would welcome the U.S. president — and he's hoping for more than a few handshakes.
"We know that we could certainly put out a really good public event," he told CBS News. "We are getting an impression that the president does want to do some sort of address to the public, and there is no better place for that [than Ballina]."
The seaside town's ties to Mr. Biden go beyond familial bonds. The city has been linked with the president's own birthplace of Scranton for decades.
"Our sister city relationship is remarkable, because so many Scranton residents trace their lineage back to County Mayo, many to Ballina specifically," Scranton Mayor Paige Cognetti told CBS News in an emailed statement. "It is truly special to have this deep connection between our cities and be able to celebrate and share our pride in having a U.S. president call our cities home."
Locals told CBS News that Mr. Biden made a good impression on the people he met during his previous stops in Ballina, making a potential repeat visit by the now-president even more exciting.
"It was really nice," Miriam Caffrey told CBS News. "You know, he was very relaxed and engaging with everybody. He had time for everybody… It's amazing to think that the President of the United States of America has forefathers from Ballina."
Annie May Reape, a local politician, recalled chatting with Mr. Biden about their parallel careers in public service.
"I was introduced as the local councilor, and he just said, 'Does everybody know you? Do they know your car? When I started in politics, everybody knew where I lived and everyone knew my car.' He was so particularly happy because of his connection to Ballina," Reape said.
A visit by the U.S. leader would carry particular significance for the town this year as Ballina is celebrating the 300th anniversary of its establishment. Locals have already seen the potential benefits for their economy that the relationship with Mr. Biden can bring, and they'll be hoping for more of the same next month.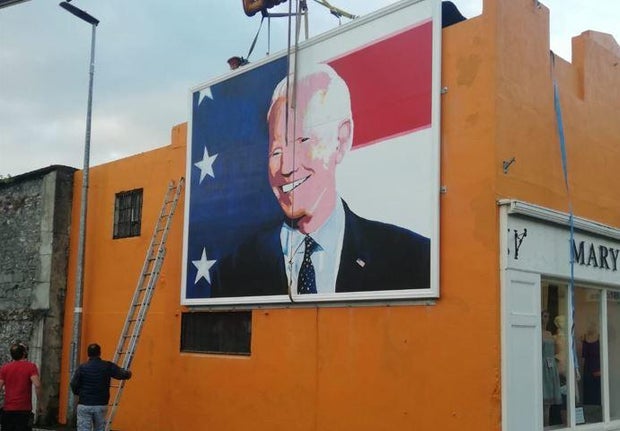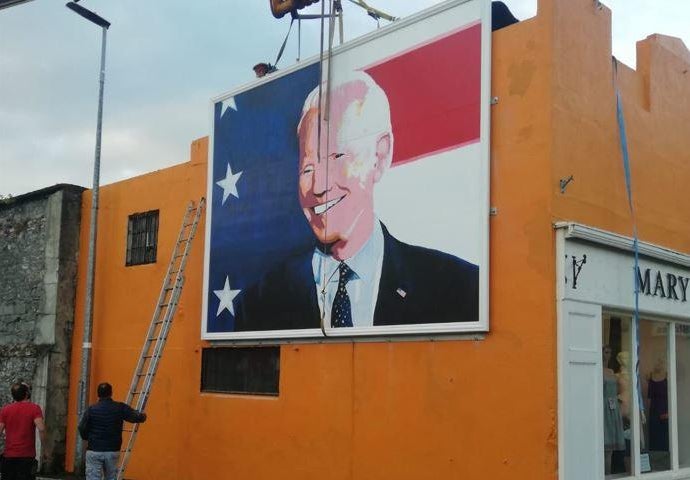 Irish artist Padraig Mitchell's mural of Joe Biden is hoisted into place in the main square of Ballina, Ireland, in 2020.
Courtesy of Joe Blewitt
Artist Padraig Mitchell painted a mural of Mr. Biden in the town's main square during the campaign for the presidency in 2020. The image went viral and has drawn tourists from all over the country.
"It was the most sought-after selfie in Ireland in 2020," Mitchell boasted.
Pub owner Derek Leonard helped paint the mural and remembered welcoming Mr. Biden into his pub, Harrisons, on his second visit to the town in 2017.
"He came in and he spent a few minutes here after a walk around the town," Leonard told CBS News. "He had a great interest in his family history."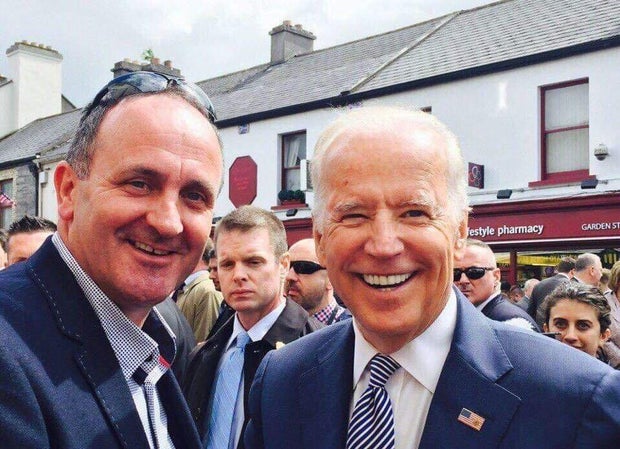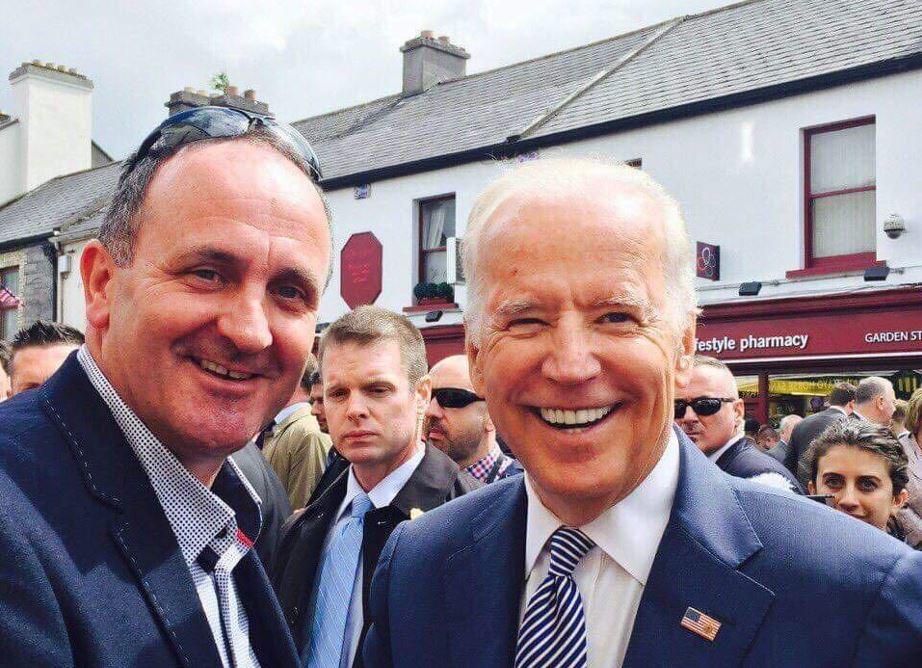 Pub landlord Derek Leonard has his photo taken with Joe Biden during a visit by the U.S. politician to his ancestral home in Ballina, Ireland, in 2017.
Courtesy of Derek Leonard
According to Leonard, Mr. Biden was aware of the mural as he campaigned for the White House and pledged to visit Ballina as president to see it in person.
For Annie May Reape, a visit by President Biden would add to a long history of Irish Americans tracing their roots back to the republic.
"The visit is going to be unbelievable," she said. "We have a lovely tradition where people like to come and see where their ancestors came from, and now everyone will be anxious to see one of the most important people in the world has a family background in Ballina."
In:

Joe Biden

Brexit

Northern Ireland

Good Friday Agreement

St. Patrick's Day

United Kingdom

Ireland
Thanks for reading CBS NEWS.
Create your free account or log in
for more features.